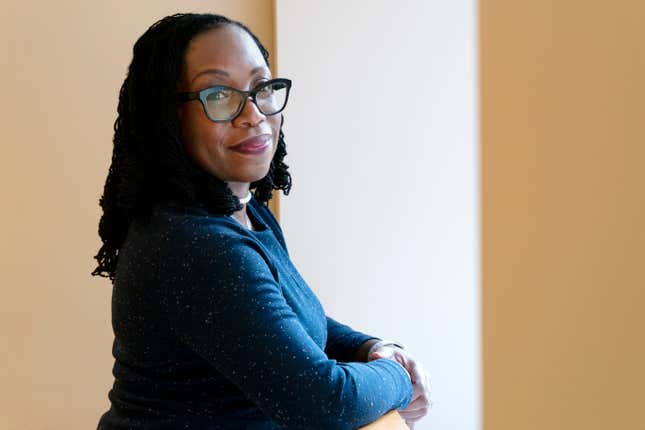 Updated Feb. 25, 2022 at 3:14 pm 
President Joe Biden named Ketanji Brown Jackson as his nominee for the Supreme Court on Friday, a historic nomination in the 233-year history of the institution.

"For too long our government, our courts haven't looked like America. I believe it is time that we have a court that reflects the full talents and greatness of our nation," Biden said in brief remarks delivered as he made his pick official at the White House.
The Biden And Trump Classified Documents Scandal Explained
If confirmed, Jackson will replace retiring Justice Stephen Breyer, for whom she clerked earlier in her career. But despite the fact that she's received bipartisan support in her previous nominations to the federal circuit and appeals court benches, its unclear how her nomination will proceed before a deeply-divided Senate where Republicans have leveled criticisms with racist overtones at Biden's promise to nominate a Black woman to the bench.

The Senate is evenly split between Democrats and Republicans with Vice President Kamala Harris, a former U.S. Senator from California, holding the tiebreaking vote. In a different era, that might have secured Brown's confirmation along party lines, but of late, Supreme Court nominations have been bitter political theatre. Republicans refused to even give current Attorney General Merrick Garland a confirmation hearing when he was nominated by President Barack Obama while the Senate was under GOP control.

A party-line vote over Jackson's nomination could set up more history, putting the first Black woman vice president in the position of casting a tie-breaking vote to send the first Black woman justice to the Supreme Court. In his remarks today, Biden noted that Harris, a Howard-educated lawyer who also served as California's attorney general, was critical to his process in identifying and choosing a nominee.

Jackson was among three candidates Biden interviewed this week. That list also includes California Supreme Court Justice Leondra Kruger and federal judge J. Michelle Childs, who was reportedly supported by South Carolina Rep. Jim Clyburn, an influential Democrat credited with resuscitating Biden's once-flailing presidential campaign during the 2020 primaries. Prominent civil rights lawyer Ben Crump publicly endorsed Jackson for the nomination on Thursday.

Biden promised during his 2020 presidential campaign that he would nominate a Black woman to the Supreme Court if he got the opportunity, a promise that he reaffirmed when Breyer announced his plan to retire back in January.

CNN had reported late Thursday on its website that a move by the US Court of Appeals for the District of Columbia had made a move that could signal that Jackson might be the nominee.

From CNN.com

The US Court of Appeals for the District of Columbia Circuit deviated from its typical procedure by issuing an opinion on a Thursday — breaking with its usual schedule of Tuesday and Friday release days. Notably, Jackson — who has interviewed with Biden for the Supreme Court nomination — was in the majority in the 2-1 ruling case.

Some legal experts took the release as a sign that Jackson could be the nominee and that the announcement could come as soon as Friday, especially because a similar scenario played out with now-Justice Brett Kavanaugh.

"Part of why this sets off alarm bells is because we saw a similar scene play out in July 2018 with then-D.C. Circuit Judge Brett Kavanaugh," said Steve Vladeck, CNN Supreme Court analyst and professor at the University of Texas School of Law.
The Supreme Court has had 118 justices in its 233 year history. Only two–current conservative justice Clarence Thomas and his predecessor Thurgood Marshall, a stalwart for his opinions advancing civil rights protections–have been Black. Five–the late Ruth Bader Ginsburg, retired justice Sandra Day O'Connor and sitting justices Sonia Sotomayor, Elena Kagan and Amy Coney Barrett–have been women. Sotomayor is the court's only Hispanic justice in history.
There has never been a Black woman to sit on the court. Some Republicans have offered racist and sexist criticisms of the idea that Biden would commit to nominating a Black woman for the court. Sen. John Kennedy (R-LA), said earlier this month that he wanted "a nominee who knows a law book from a J. Crew catalog," and "a nominee who's not going to try to rewrite the Constitution every other Thursday to try to advance a 'woke agenda.'"