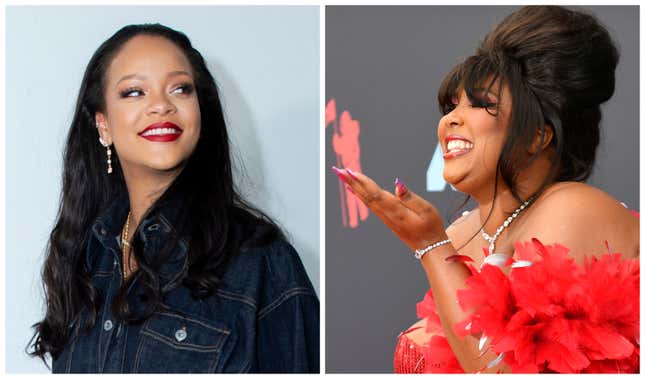 When Lizzo managed to recruit her idol, Missy Elliott, to join her for a remix and video of her hit single "Tempo," we thought we'd reached peak collaborative nirvana (at least, for the summer of 2019). But now, the "Truth Hurts" singer is engaged in another mutual admiration society that has us musing about what it'd be like to see Lizzo's legendary twerk skills go to "Work."
Confirming that we already have excellent taste in music, Rihanna is apparently a Lizzo fan, as well. We first saw evidence of her appreciation in the standing ovation she memorably gave the singer/rapper/flutist after her breakthrough performance at the 2019 BET Awards in June. But earlier this week, Lizzo revealed to Entertainment Tonight that after her uplifting performance at Monday's VMAs, Rihanna slid into her DMs with hilariously unfiltered praise.
"She DM'ed me to tell me that I performed good," Lizzo told ET. "She said I fucked the stage like it was my side bitch. Don't get mad, Rihanna. I am not trying to blow up your spot, but that was a hard-ass line! I might take that line."
Excuse us while we ponder the possibilities of that line making it into a Rihanna/Lizzo collaboration...okay, we're straight. But like us, Lizzo can't wait for new music from Bad Gal RiRi—and would like to see evidence of progress on a new release.
"Listen, we need a video of Rihanna in the studio, period," declared Lizzo. "I am not going to bother her, 'cause I know what that feels like, so I am going to let her do what she ought to do. I love Rihanna."
We love this burgeoning friendship, and even have a hybrid nickname ready for the two—"Rizzo"—after one of the original bad girls. And of course, we continue to love Lizzo, who also dropped some gems in an exclusive interview with Glamour this week, as part of the magazine's weeklong "F" word series, which explores what it's like to be a plus-size woman in America. While Lizzo may currently be America's favorite body-positive ambassador, one thing she doesn't want to be called is "brave."
"When people look at my body and be like, 'Oh my God, she's so brave,' it's like, 'No, I'm not,'" Lizzo told the magazine. "I'm just fine. I'm just me. I'm just sexy. If you saw Anne Hathaway in a bikini on a billboard, you wouldn't call her brave. I just think there's a double standard when it comes to women.
"I don't like it when people think it's hard for me to see myself as beautiful," she added. "I don't like it when people are shocked that I'm doing it."
And if the incredible talent of Lizzo—a woman who'd be legitimately gorgeous at whatever size—blows your mind, just imagine what we might be missing from the legions who haven't been able to break through the industry machine the way she has.
"Make space for me. Make space for this generation of artists who are really fearless in self-love," implored Lizzo. "They're out here. They want to be free. I think allowing that space to be made is really what's going to shift the narrative in the future. Let's stop talking about it and make more space for people who are about it."