You win some, you lose some; that's the lesson the Obamas are learning as newly minted producers for Netflix. According to the Hollywood Reporter, the dynamic duo has been moving full-throttle into their Hollywood hustle via their Higher Ground productions, already set to release the documentary American Factory, their first film on the streaming network, on August 21.
"Their team is smart, focused and know what they're looking for. They honed in on certain films right away," Submarine Entertainment agent Josh Braun told the outlet, having already sold American Factory and 2020's disability-focused documentary, Crip Camp, to Higher Ground.
As THR reports:
Other initial projects include a feature adaptation of David W. Blight's best-selling Frederick Douglass: Prophet of Freedom; Bloom, an upstairs/downstairs post-World War II drama series written by Callie Khouri; the scripted anthology series Overlooked, based on the New York Times' ongoing obituary column; the kids nutrition series Listen to Your Vegetables & Eat Your Parents; and a docuseries based on Michael Lewis' The Fifth Risk: Undoing Democracy, which takes aim at the Trump administration—perhaps the lineup's only arguably partisan offering.
Whew, we are here for that last one—but THR also spilled some celebrity-laced tea about projects the Obamas missed out on...or may be peripherally involved in.
Netflix lost out on the upcoming biopic on Richard Williams (father and first trainer of Venus and Serena), King Richard, slated to star Will Smith (yes, we too pause at that casting). Had Netflix acquired the project, Higher Ground would have produced, but the studio lost out to Warner Bros. after Netflix's offer was reportedly rejected by Smith himself, according to BET, which notes that this doesn't rule out Smith lobbying to play the similarly eared former president. (Now that, we could see.)
G/O Media may get a commission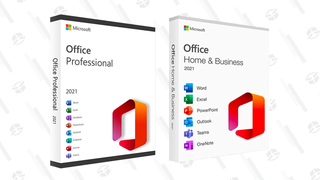 89% off
Microsoft Office Professional 2021 Lifetime License
THR reports that Denzel Washington has also been reluctant to venture into the small-screen format Netflix offers, but nevertheless took a meeting with chief content officer Ted Sarandos, who many believe orchestrated the Obamas' Netflix deal, as well as being a close friend and adviser to the former president in this unfamiliar new arena.
While THR's source says this coinkydink had no influence upon Washington's decision to move the Viola Davis and Chadwick Boseman vehicle Ma Rainey's Black Bottom, which he is producing, from HBO to Netflix, "Obama just happened to be in Sarandos' offices, extolling the merits of the streamer," the outlet reports. Real smooth, Barry—we see what you may or may not have done there.
Unfortunately, we won't be seeing Denzel's iconic mug on our binge-watching vehicle of choice anytime soon, as he has declined to star in any Netflix productions—which is too bad because there is an entire contingent of aunties who'd love to Netflix and chill with Denzel. But any chance we could somehow get him in the running for Richard Williams? (Sorry Will, but we had to ask.)