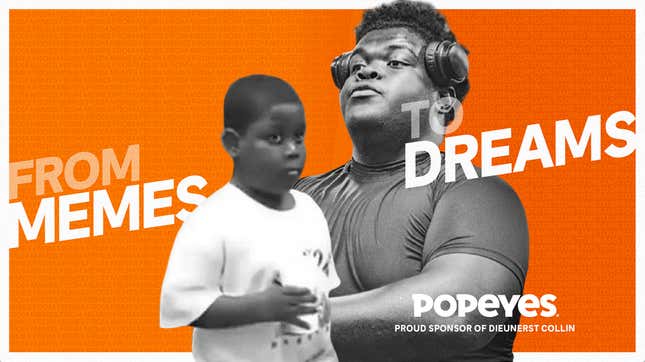 Dieunerst Collin didn't get to choose where his fame came from—you probably know him best as the "Popeye's Meme Kid"—but after years of anonymity, he's finally making the most of his notoriety. Dieunerst is all grown up now, and thanks to a NIL (Name, Image, Likeness) sponsorship deal with the fast food restaurant, the 18-year-old college football player is finally able to capitalize off his internet success.
"A lot can happen with the power of the internet behind you!" Collin said in a statement when the deal was announced. "I can't believe I can say I'm officially sponsored by Popeyes. Thank you to everyone who helped spread the good word!"
According to People, Collin makes his first major appearance for the chicken chain in its Super Bowl LVII ad. Not only is he surrounded by all the normal celebrity trappings, he also gets to promote his own special meal offer.
"You might know me, I used to be that meme kid. And now, I'm in Popeyes' big game ad," Collin says in the commercial. "It's got all of those things those ads have, like a nice ride. Electric, of course. It's got puppies."
Dieunerst's "Eyes on the Fries (or Pies)" meal deal gives Popeye's Rewards members a chance to earn points toward free fries and pies. Running through Feb. 12 on the Popeye's app, rewards members "who spend at least $20 on their order" earn 400 bonus points that can be used for "free fries and a pie on the next order."
This all started back in 2013 when a nine-year-old Dieunerst was filmed while sitting in a Popeye's. He looks over at the camera, gives a perfect side eye, and the meme was born. In a December 2021 interview with Complex, Collin explained how he initially wasn't a fan of the meme because he was filmed without his permission. As he got older, however, he was able to accept his internet fame and be OK with it.
"Before, I did take it as offensive," Collin said. "Now, I do take it as a joke. When I look back at it, I laugh at it. In general, I'm known as being a funny guy."
The Lake Erie College freshman offensive lineman has dreams of being a sports analyst, and what better way to kick off his career than with a Super Bowl ad in front of the entire world?