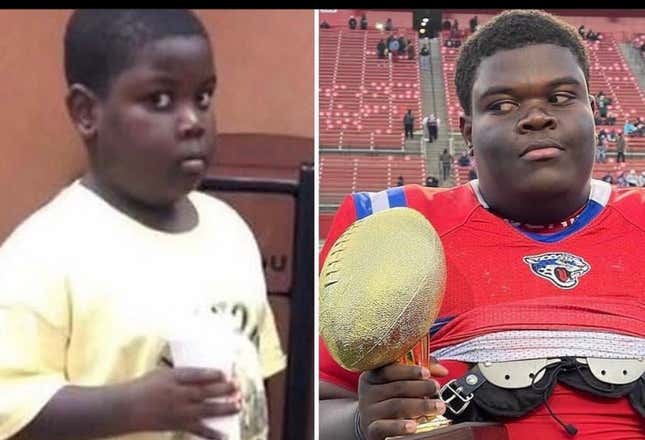 Let's be honest: we don't really think about the people behind our favorite internet memes. But in one case, it turns out that person has been waiting for the right moment to cash in. Dieunerst Collin, known to the internet as the "Popeyes's meme kid," is all grown up and finally getting a chance to profit off of his claim to fame.

American Ninja Warrior: Season 15 Is Our TV Pick of The Week
According to Front Office Sports, the freshman football player for Lake Erie College has reportedly signed a NIL (Name, Image, Likeness) deal with the fast-food chicken restaurant. On Sunday, Collin posted a "How it Started, How it's Going" meme featuring a shot of his younger self next to a current photo, with the caption letting Popeye's know "I JUST WANNA TALK BUSINESS." The company quote tweeted the message, writing, "Let's get this bread(ing)."
A nine-year-old Dieunerst became internet famous in 2013 when he gave a perfectly timed side-eye to the camera. Since then, the meme has become a favorite for those looking to cast the perfect amount of shade at comments and pictures. Shortly after his identity was revealed in December 2021, in an interview with Complex, Dieunerst admitted that he wasn't a fan of the meme because it was recorded without his permission.
"Before, I did take it as offensive," Collin said. "Now, I do take it as a joke. When I look back at it, I laugh at it. In general, I'm known as being a funny guy."
At this point, there's nothing he can do about being the "Popeye's Meme Kid," so he might as well try to finally get some compensation for it. As a freshman offensive lineman for a Division II college football team, Collin is eligible to use his name, image and likeness to promote the restaurant chain. Honestly, Popeye's should have been waiting to give this kid a deal the minute he graduated high school. It will be interesting to see if the company's marketing efforts remain in New Jersey—where Collin is from—and Ohio—where Lake Erie College is located—or if we could possibly see national ads capitalizing on his fame.
Dieunerst has big plans for his future, so I hope he uses this renewed recognition to his advantage. "Everyone wants to go pro. I want to go pro," he told Complex. "Aside from that, I want to be a sports analyst. That's all I talk about."