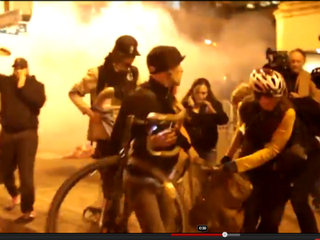 According to the San Francisco Chronicle, Oakland, Calif.'s police chief is promising a vigorous investigation into the clash between police and Occupy Wall Street protesters that left 24-year-old Scott Olsen in critical condition with a fractured skull. "It's unfortunate it happened. I wish that it didn't happen. Our goal, obviously, isn't to cause injury to anyone," the chief said at a press conference.
Olsen was injured Tuesday in a march with other protesters toward City Hall, said Dottie Guy of the Iraq Veterans Against the War. The demonstrators had reportedly been attempting to re-establish a presence in the area of a disbanded protesters' camp when they were met by officers in riot gear.
Warning: This video contains graphic content that may be disturbing and NSFW language.
Read more at the San Francisco Chronicle and the Examiner.
In other news: The Great Shariah-Libya Freakout.