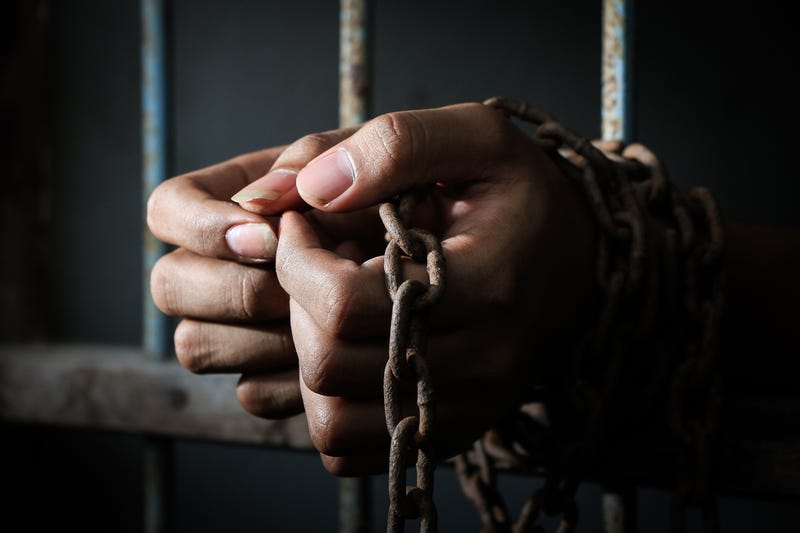 The U.S. injustice system is not broken. It is working exactly as it was intended to work, which is primarily in the service and protection of privileged white people who have enough money to escape the legal consequences of their actions.

That is the foundation of the draconian money-bail scheme that places a price tag on freedom for the most occupied and economically exploited communities in this nation.
The scheme is horrifying in its simplicity and transparency. First, create and sustain oppressive conditions for poor, black and brown communities. Implement policing tactics and drug policies that criminalize already pathologized poor, black and brown people—people who are never presumed innocent in the eyes of society nor the law.
Make it so that "law and order" dictates incarceration for the pettiest of crimes—indeed, racialize crime itself—then give people the option to either stay in jail or pay for their freedom as they await court dates that are often egregiously delayed. This often means paying private bail bondsmen a nonrefundable fee—1o percent of the total bail set—to avoid sitting behind bars.
If one has the financial means, the choice is clear. If one does not, which is often the case by design, it can be a matter of life and death.
This was the case for Kalief Browder, who in 2010 was arrested and charged with grand larceny for the alleged theft of a backpack. Kalief was only 16 years old when he was locked away in New York City's Rikers Island jail complex for more than 1,000 days, almost 800 of those days spent in solitary confinement. Despite being repeatedly, viciously, psychologically and physically assaulted while in jail, Kalief refused to plead guilty to a crime he did not commit.
After appearing in court more than 30 times and attempting suicide at least five times, Kalief was eventually released in 2013 when his case was dismissed because of lack of evidence. But irreparable damage had been done. On June 6, 2015, Kalief Browder hanged himself from his bedroom window. He was only 22 years old.
His mother, Venida Browder, suffered a fatal heart attack in October 2016. Cause of death: a broken heart. The state had stolen her son away from his family, snatched him off the street like a predator, and she could not afford the $3,000 ransom it demanded in exchange for his freedom.
This was also the case with Sandra Bland. On July 9, 2015, Texas State Trooper Brian Encinia pulled her over for allegedly failing to signal before switching lanes. Bland had the nerve to be free in his presence—had the nerve to know her rights. Encinia physically assaulted her before placing her under arrest for allegedly resisting arrest, when his real problem was that she had resisted the racist and gendered notion that she didn't have autonomy over her own body, or the right to navigate the world freely in it.

Bland was held in the Waller County, Texas, jail because she could not afford the $500 price tag placed on her freedom. On July 13, 2015, she was found hanging in her jail cell under suspicious circumstances. She was 28 years old.
There can be no doubt: This money-bail system—a blood-sucking beast that devours any pretense of justice—not only disrupts black lives but also renders black bodies disposable commodities.
---
According to the Prison Policy Initiative, more than "2.3 million people in the U.S are incarcerated in 1,719 state prisons, 102 federal prisons, 901 juvenile correctional facilities, 3,163 local jails, and 76 Indian Country jails as well as in military prisons, immigration detention facilities, civil commitment centers, and prisons in the U.S. territories."

White men have the highest incomes before incarceration, while black women have the lowest incomes before incarceration, PPI reports. Black men in jail have a preincarceration median income 64 percent lower than that of their nonincarcerated counterparts.
There are more than 11 million jail arrests made in the U.S. each year; at any given time, approximately 70 percent of the total jail population has not been convicted of a crime. They either cannot afford bail, or they will make bail in a few hours or days. The New York Times reports that in New York City, even when bail is set at $500 or less, 85 percent of defendants were unable to afford bail.
Further, even though there are significantly fewer drug convictions on the state and local levels, compared with federal prisons, that does not stop drug arrests from being made in predominantly poor, working-class, black and brown communities.
In 2015, 87 percent of defendants in Orleans Parish Criminal District Court had to post bail in order to be released, The Nation's Dani McClain reports. She writes that "of the defendants who could afford to post bail, 97 percent used a bail bondsman. New Orleans bondsmen earned $4.7 million in payments from defendants that year."
As previously reported by The Root, this is nothing short of modern-day debtors' prisons. In addition to not being able to afford bail, incarcerated people have to contend with a "pay to stay" scheme that also holds them responsible for their room, board, clothing and medical treatment. Poor people are expected to finance their own confinement, even though the vast majority of them wouldn't be behind bars if they could afford their freedom.

The racism embedded in this process is clear.
---
UCLA's Million Dollar Hoods research team recently released a report (pdf) that detailed the bias and bigotry inherent in requiring money bail from poor people who pose a low risk to society. According to the report, in Los Angeles:

Of the $193.8 million paid to bail bond agents, Latinos paid $92.1 million, African Americans paid $40.7 million, and whites paid $37.9 million. But a recent study by the Ella Baker Center for Human Rights documents that it is women—the mothers, aunts, grandmothers, friends and wives of the accused—who are most likely to contract with a bail bond agent on behalf of those in custody. If so, the estimated $193.8 [million] paid in nonrefundable bail bond deposits were disproportionately paid by women, namely black women and Latinas. Moreover, each community likely paid much more when accounting for post-arraignment payments, the service fees charged by bail bond companies, and, in some cases, asset seizures.
Not only are black women 44 percent of the nation's jail population (pdf), but they are too often left carrying the financial, psychological and emotional weight when the state comes for their partners.
In 2017, the Pretrial Justice Institute released a state scorecard grading states' pretrial systems, and the sobering numbers reveal the sheer scope of this inhumane infrastructure with tentacles throughout the country.

Alabama is one of the states in the deep South that scored an F, but because of intense grassroots efforts, change is visible. Equal Justice Under Law has worked to ensure the end of the money-bail system in seven communities, including Clanton and Dothan, Ala., where the Rev. Kenneth Glasgow, founder and president of the Ordinary People Society, has worked for decades against the disenfranchisement of formerly incarcerated people.
Glasgow has also been on the front line of the bail-reform efforts in Dothan, partnering last year with Southerners on New Ground, which is led by black lesbian feminist organizer Mary Hooks, to bail out black mothers in time for Mother's Day.
More than 25 organizations joined SONG's massive, revolutionary action (pdf), including the Movement for Black Lives, Project NIA, Color of Change and Dream Defenders. The National Bailout Campaign has since grown to include the LGBTQ+ community and has shifted the narrative around mass incarceration and mass criminalization in this nation.
And Alabama is not the only state where change is brewing.
In 2016, a federal class action lawsuit filed by Equal Justice Under Law and the Roderick and Solange MacArthur Justice Center at the University of Mississippi School of Law against Jackson, Miss., ended with a settlement that effectively ended the misdemeanor money-bail system in the city.
In 2017, a federal judge ruled the money-bail system in Harris County, Texas, to be unconstitutional. Attorneys with the American Civil Liberties Union of Texas, the Civil Rights Corps and the Texas Fair Defense Project have filed a class action suit against Dallas County's money-bail system.
Nowhere has progress been more evident than in the state of New Jersey, the only state to score an A on the Pretrial Justice Institute's state scorecard.
Drug Policy Alliance created the New Solutions Campaign in 2008 in response to New Jersey's "then out-of-control prison growth." A 2013 DPA report (pdf) found that almost 40 percent of the individuals being held in New Jersey jails were there solely because they could not afford to pay bail.
In 2014, then-New Jersey Gov. Chris Christie signed comprehensive bail-reform legislation, which went into effect in January 2017. By the end of May, "jail populations across the state had declined 19 percent ... a 36 percent drop statewide compared to May of 2015—with declines of as much as 49 percent in some counties."
These victories cannot be overstated, but pushback to progress is inevitable in a white supremacist capitalist nation built on genocide, land theft and slavery. For example, because of "technical violations," which may include failure to pay a fine, the prison population continues to grow in Mississippi despite bail reforms. And Houston Council Member Michael Kubosh, who also happens to be a bail bondsman, criticized the ending of Harris County's money-bail system as "giving criminals a get-out-of-jail-free card"—as if it is not criminal for a public figure to have a private, financial interest in which way public policy swings.

This is about much more than numbers; it is about communities collapsing under a brutal weight that has been on them for generations. It is about the lacerated legacies of people who are trapped in cycles of poverty and debt they were never meant to break. It is about occupation and punishment; inequity and discrimination.
It is about slavery shape-shifting so that institutions can still profit off the bodies of black people.
Attempting to reform a system that is not broken, but working exactly as intended, will forever be a Herculean task. Prison abolition is required for true restorative and transformative justice to be achieved, but until that day comes, it is imperative that poor, working-class, black and brown communities are not forced into illegal debtors' prisons solely to maintain the very systems hell-bent on destroying them.
---
Starting on Feb. 14—Black Love Day—organizations working to #EndMoneyBail and pretrial detention in Memphis, Tenn., Philadelphia and Los Angeles, as well as Alabama and Texas, will coordinate a month of "Bail Outs" in observance of Black History Month and International Women's Month.  
The coalition of organizations has published a tool kit encouraging communities to bail out black people who would otherwise languish in jail because they are unable to afford bail. Learn more here.