In a case that is giving me serious Catch Me if You Can vibes, more than 100 patients have filed a class action lawsuit against Prince George's Hospital Center in Cheverly, Md., after federal authorities busted a man who was a practicing OB-GYN there but who had been using false identities for decades.

The Washington Post reported on New Year's Day that the man, called "Dr. Akoda," was actually Oluwafemi Charles Igberase, who used a fake Social Security number to obtain his medical license in Maryland.

The Post reports that Igberase had been using stolen Social Security numbers to advance his medical career and obtain professional certifications for at least 25 years.

"This makes me even scared to go to the hospital," said one of Igberase's former patients, who wished to remain anonymous. "He could have put my son's life and my life in danger."

Igberase was removed from the hospital in 2016 after being indicted by federal authorities. He pleaded guilty in November 2016 to fraud charges including using four different Social Security numbers under three different names to apply for medical certifications, federal education loans for his children and his license to practice medicine.
G/O Media may get a commission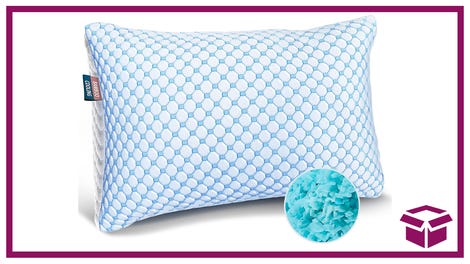 23% off
Nestl Cooling Pillow - Queen Size
Authorities also found that Igberase had not only forged or altered his medical diploma, medical transcripts and letters of recommendation, but also had a false passport, visa, birth certificate and immigration documents.
However, in a statement to the Post, the Prince George's County hospital seemed to want to pass the buck.
"Several highly reliable agencies validated his credentials including the states in which he held medical licenses," the statement read in part.
Attorneys for the hospital are also claiming that regardless of the name used, the man who practiced medicine was, in fact, licensed to do so in the state of Maryland.
"Whether the patients knew him as 'Akoda' or 'Igberase,' both names denote the exact same person, and that person was a licensed physician who was experienced and competent in the practice of obstetrics and gynecology," the lawyers wrote.
However, the lawyer for the plaintiffs in the class action suit says that the hospital could have done more due diligence. As it turns out, in 1992 and 1993, Igberase failed basic exams for the Foreign Medical Graduate Certification. He eventually received them, but in 1995 the certifications were revoked because the committee discovered that he had used different names and dates of birth to apply for the credentials, according to the Post.
In 2000 a residency program in New Jersey figured out that he had given them incorrect information about his identity and kicked him out. In 2012 the federal government rejected Igberase's application for a Medicare claim after saying that it had received someone else's Social Security number for the application.
Prince George's Hospital Center said that he was also board-certified from the American Board of Obstetrics and Gynecology and was named "Resident of the Year" in his final year at Howard University.
"We acknowledge the concerns expressed by some of his former patients," the hospital stated. "However, it remains a fact that Dr. Akoda was a trained, licensed, and qualified obstetrician and gynecologist during the entire period he had privileges to practice at our facility."
But patients don't wanna hear it, and who can blame them? We know that OB-GYNS have some of the highest malpractice insurance in medicine, not only because of the intimate nature of their practice but also because they are dealing with newborns. So why could this doctor continually and habitually lie?
"This is something where you're dealing with lives, you're dealing with babies, you're dealing with personal areas," said one of the patients in the lawsuit.

She added, "I don't know who is this man that touched me in a private area and delivered my child."
Read more at the Washington Post.