On Friday, Facebook released a statement that Peggy Alford, a senior vice president at PayPal, has been nominated to have a seat at the table, a landmark step in diversifying its nine-member board of directors. If elected by shareholders, she would become the first black woman to sit on the board.
Alford is no stranger to Silicon Valley, or to Facebook. According to Black Enterprise, she's the former chief financial officer and head of operations at the Chan Zuckerberg Initiative—a company launched by founder and chairman/CEO of Facebook Mark Zuckerberg and his wife, Priscilla Chan. Alford has also held executive positions at eBay and Rent.com, and recently joined PayPal in 2019 as senior vice president, core markets. She's earned a bachelor's degree in accounting and business administration from the University of Dayton in Ohio and is well-respected in her field.
Zuckerberg stated in a press release:"Peggy is one of those rare people who's an expert across many different areas—from business management to finance operations to product development. I know she will have great ideas that help us address both the opportunities and challenges facing our company."
"What excites me about the opportunity to join Facebook's board is the company's drive and desire to face hard issues head-on while continuing to improve on the amazing connection experiences they have built over the years," Alford said in the release. "I look forward to working with Mark and the other directors as the company builds new and inspiring ways to help people connect and build community."
In an interview posted on PayPal's website, Alford detailed her recommended style when it comes to leadership, perhaps a glimpse of what she plans to contribute to community-building with top executives of Facebook:

[G]o in with a mindset of seeking to understand first, don't try to just jump in and change everything based on what you think following the first meeting. Set the stage of seeking to understand first. Don't feel like you need to know it all, own it all, do it all. Lean on your team and give them credit, allowing them to participate in the process—and your success—by involving them in your learning curve.

Also, always have the confidence to know there's a reason you're in the position, even if you're not a subject matter expert. Maybe you bring leadership skills, collaboration skills, an intuitive vision into how cross-functional groups need to work together. Maybe you're skilled at teasing out the root-cause issues of problems that could help the business move forward. Whatever it is, be confident in what you bring to the table. Without that confidence you can end up stifling your ability to be successful by trying to overcompensate and acting like you can do everything single-handedly.
G/O Media may get a commission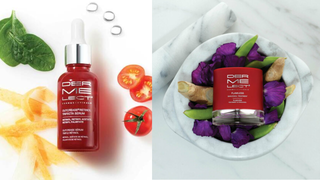 Save $19
Retinol Renewal Kit
It's fantastic to see Alford take on this key position. For those hoping she'll help open more tech opportunities for black people in the industry, and within Facebook itself, we'll have to wait and watch. Alford's nomination has come after years of pressure from the Congressional Black Caucus, the Rev. Jesse Jackson and many other civil rights leaders. Representatives urged Facebook, Apple, Amazon and Google to make their boards inclusive of black and Hispanic executives, as one of many ways to reverse long-standing racial exclusion.
Facebook has been criticized for having dismal rates of overall diversity through all levels of staff employment. This mirrors the overall state of diversity in Silicon Valley, an industry area that largely employs white and Asian men. Tech website Mashable reported that Facebook's 2018 diversity report was "as underwhelming as ever."

That same year, According to Black Enterprise, retired American Express CEO Ken Chenault joined the social media company's board, the first black person to do so. Zuckerberg claimed at the time he had been trying to recruit Chenault "for years."
Facebook's chief diversity officer Maxine Williams said the company has planned to work more closely with "historically black and Hispanic colleges" according to Mashable.
"We've learned through trial and error," Williams wrote in the 2018 diversity report, "that if we're going to hire more people from a broader range of backgrounds, it's not enough to simply show up at colleges and universities. We need to create practical training opportunities for these students to build on their academic experience."
One question worth asking of this, if it hasn't been asked already is: What are the various structures of these programs and who is creating them? For instance, the experience and outcomes for students who elect or apply to join a Facebook program would be much different than if students are unaware they've entered a recruitment pipeline simply by being tech students at a particular school. This is especially true if the students wouldn't willingly work with Facebook otherwise.
It will be interesting to see if or how Alford will address the details of the current plans for tech training geared specifically toward HBCUs and other spaces for people of color. It's hoped by many that she'll ensure all ideas will be carried out with the necessary level of detailed care. If approached correctly, then there's possibility for these educational programs to truly benefit the communities they claim to support, not just as a form of corporate self-interest.
Alford's impending arrival will coincide with another drastic shift in the board's makeup. As detailed by TechCrunch, longtime board members Reed Hastings, the CEO of Netflix, and Erskine Bowles, who had political appointments under Bill Clinton and Barack Obama, will be stepping down this year. Both Hastings and Bowles have served since 2011 but have also had recent disagreements over Facebook's direction and influences, according to TechCrunch. "Hastings reportedly clashed with fellow board member Peter Thiel over his support for the Trump administration and Bowles famously dressed down Facebook's top brass over Russia's political interference on the platform." Big changes are ahead, for sure.
Alford's nomination is expected to be confirmed at the company's annual meeting on May 30.

Correction: Sept. 22, 2019, 4:06 p.m. ET: This story has been edited to remove unattributed text and to add fuller sourcing.