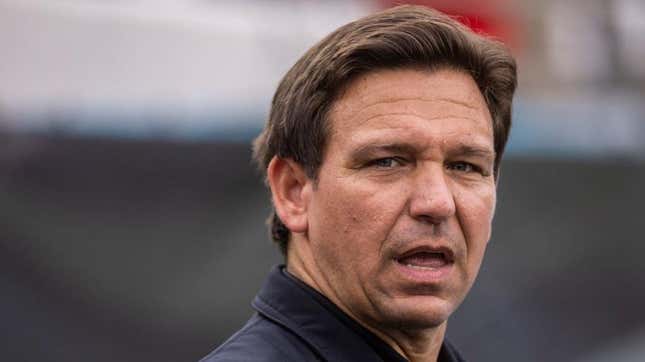 We've said this a million times, the Jacksonville shooting was a tragedy that reflected the hatred targeted toward innocent Black people. It was an act we will never forget.
White People, Here's Why We Need Black History Month
But we also shouldn't forget how much of a mistake it was for Florida Governor Ron DeSantis to speak at the vigil, just a day after three Black victims were killed by a white mass shooter.
If you don't recall, DeSantis was booed by many of the attendees at the vigil as he attempted to share some thoughtful words to honor the lives of the Black victims killed.
During the vigil, he said, "What he did is totally unacceptable in the state of Florida. We are not going to let people be targeted based on their race."
Although the governor wasn't incorrect, it was still a mistake to allow him to speak, considering he created an environment for the mass shooting to occur. Now, the pastor who hosted the vigil is acknowledging that he never should've let DeSantis speak.
During an interview with News4Jax, Pastor John Allen Newman and Councilwoman Ju'Coby Pittman spoke about their mistake.
Pastor Newman said, "I mistakenly forgot he was to be acknowledged, would not speak. So the fluke was I called him to go out and speak. It was not some kind of grandiose scheme. That was actually a mistake I made by misreading the program."
Councilwoman Pittman shared that she did not know that DeSantis was attending the vigil until an hour before the event was set to begin. She said all she has attempted to do is to defuse the situation, but has only been met with criticism and backlash, according to News4Jax.
I understand why.
As The Root previously explained, while DeSantis was not the man who pulled the trigger, he still has the blood of Jacsonville's Black community on his hands.
He's the one who has increased racial division in Flordia through his policies and has made it a more difficult place for targeted groups such as Black people, the LGBTQ+ community, and Hispanic immigrants to live.
Thanks to a bill he signed earlier this year, he's made it easier for anyone who can legally own a gun to carry one without a permit. You don't need a background check, you don't need to be trained. If you want a gun in Florida, it shouldn't be too hard to get it.