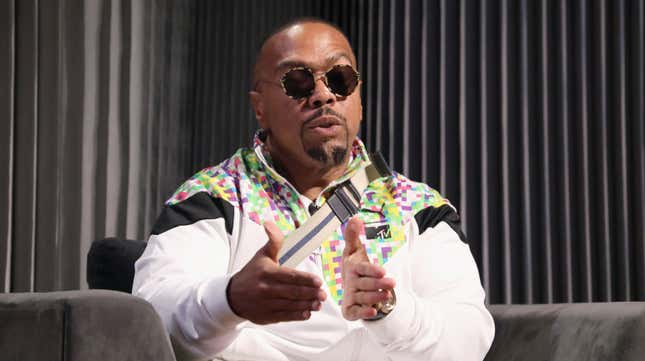 Timbaland and Jay-Z might have to shell out millions of dollars to soul singer Ernie Hines, who alleges the music moguls stole samples of his work.

My Hip-Hop Story: Cedric The Entertainer On Jay-Z and His Indisputable Role In Shaping The Genre's Culture
According to reports from the Blast and TMZ, the suit was brought in response to both Jay-Z's "Paper Chase" from the 1998 Vol. 2...Hard Knock Life album, and Ginuwine's 1999 song, "Toe 2 Toe" on 100% Ginuwine.
Some might say that both songs have been around for years, so why wait to complain about it now? Well, lest we forget, Ernie Hines, the soul crooner from Jackson, Miss., who co-authored "Help Me" (1969), is 81 years old. According to the lawsuit obtained by the Blast, as a senior citizen, Hines is so disconnected from hip-hop music and culture that he's just now hearing how Timbaland boosted his track.
So now it's about 20 years later, years that Hines could have been using those sample-clearing checks to help live a more comfortable life and he's upset. Looks like Hines is ready for a paper chase Timbo and the rest weren't expecting.
The practice of sampling throughout hip-hop music is as widespread as not giving full credit and compensation where it's due. Many music makers hinge on the hopes that the chosen sample is too obscure to be recognized, either because the original is a rare cut from a little known artist, or because the sample has been chopped, looped and contorted beyond recognition. However, usually, when large record companies are involved, samples are routinely cleared. It's unclear why Hines or others involved in making "Help Me" weren't contacted for permission.
While reports haven't mentioned Ginuwine in the lawsuit, according to Complex, the lawsuit seems centered on Ginuwine's song:
While Jigga's song is merely one of Vol. 2's album cuts, the bulk of the damages are assumed to be centered around Ginuwine's 1999 single, "Toe 2 Toe." Like "Paper Chase," Timbaland used portions of "Help Me" when producing "Toe 2 Toe." Yet instead of being a deep cut for dedicated listeners, "Toe 2 Toe" took on a life of its own going on to sell 2 million copies.
Hines has filed against Jay-Z, Timbaland, Roc-A-Fella Records, Def Jam Recordings, Universal Music Group and Sony Music.
You can hear the songs below: