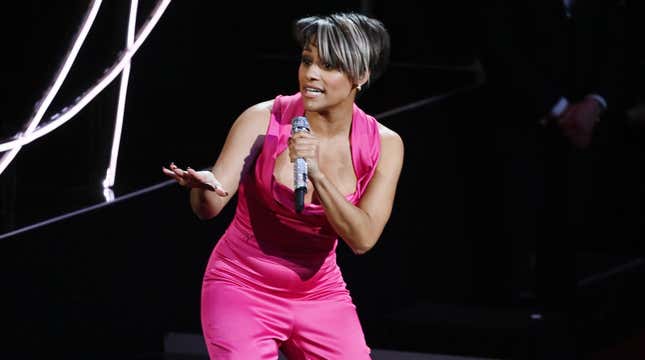 By now, you've probably seen Ariana DeBose's viral BAFTA opening number from Sunday's awards ceremony—and unfortunately you can't unsee it. Despite impressive renditions of "Sisters Are Doing It For Themselves" and "We Are Family," the talented "West Side Story" actress decided to do an original rap paying homage to the night's women nominees.
Kerry Washington On Longevity In Hollywood For Black Women | Securing the Bag: Part 3
Though her intentions were in the right place, the execution of it was extremely cringey and DeBose was rightfully roasted on Twitter (she deactivated her account following the criticism). "Angela Bassett did the thing, Viola Davis my 'Woman King,' Blanchett Cate you're a genius, Jamie Lee you are all of us," DeBose recited in a manner so ridiculous you simply can't turn away.
In an interview with Variety, BAFTA producer Nick Bullen defended the performance. "We wanted to open the show with some energy, some fun, and also lay out straight away that this was hopefully going to feel like a different night, but with a familiarity as well, and what Ariana did was exactly that," he explained.
"Our brief from BAFTA and the BBC was they wanted the show to feel as though it had more energy, had more warmth, had a broader reach in terms of age range and diversity," Bullen continued. "I think a lot of people don't like change, and there's a view that the BAFTAs have to be this slightly stiff, traditional British, middle-England messaging.
"But American awards shows have much more razzmatazz, much more showbiz, and perhaps a broader range of people being involved. We felt we're not about revolution, we're about evolution."
However, even though the likes of Angela Bassett ("Wakanda Forever"), Gina Prince-Bythewood and Viola Davis ("The Woman King") and Danielle Deadwyler ("Till") were nominated for this year, no Black actors or directors won any awards. That "evolution" Bullen spoke of is fictional.
"Range and diversity" isn't about having a Broadway star perform a really bad rap—it's about rightfully rewarding talent that has been overlooked and discriminated against for decades.