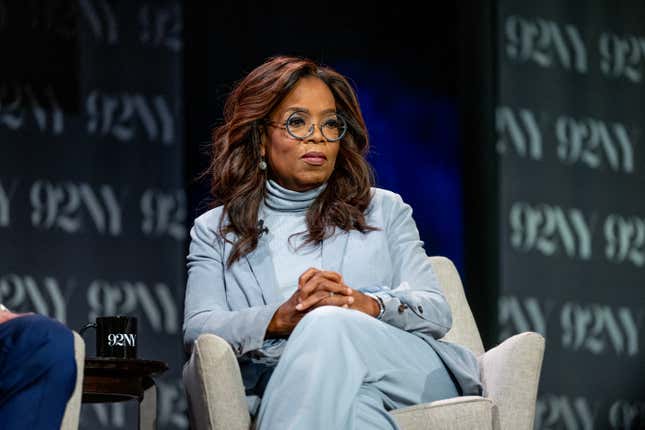 Oprah Winfrey is speaking out against the backlash she received for creating a fundraiser for the people who were affected by the wildfires in Maui.
Making Love Songs: The Story Behind Whitney Houston's "I Will Always Love You"
During an interview with CBS Mornings on Tuesday, where she was on in accompaniment with Harvard Professor Arthur C. Brooks to promote their new book Build the Life You Want: The Art and Science of Getting Happier, Winfrey explained that the "online attacks, lies, and conspiracy theories" really took away from the main focus of why the fund was started in the first place: to help the people of Maui.
"This is a really great point about being happier in the midst of an onslaught of being terrorized and vilified online," Winfrey began. "'I will say this. I came out of this experience with so much more compassion for young kids, because I was thinking, 'What if I didn't really know who I am? What if I didn't have the assurance of Invictus? That I am the master of my own fate and the captain of my soul?' It will take you out. So all of the online attacks, lies, conspiracy theories, really took the focus off of what was the most important thing, which is the people of Maui."
Winfrey went on the explain how the impetus for The People's Fund of Maui came about after she read an article about how Dolly Parton created a similar fund back in 2017 to help aid those affected by the wildfires in Gatlinburg, Tenn. (For clarity, Parton raised $12.5 million by holding a benefit concert for those in need at the time.) She added that that idea also became the better choice as people on the ground in Maui were communicating to her that they "wanted their own agency."
She further explained that both she and The Rock's team spent countless hours setting up the infrastructure to make sure they could distribute funds directly into the hands of the people of Maui and was initially excited until she saw all the negativity and "vitriol" coming from it from those online.
"This is what I want to say. You know, I think in the beginning, so many people were calling and asking 'where do we give our money to?' So I thought, 'we're gonna create something," she said. "And I still think it's a really strong idea. Dolly Parton was right, putting money directly into the hands of people is a significant thing. And the model that's been created, I will say that as of today—2,200 people have been cleared and verified and those people are going to get a notice from The People's Fund of Maui and gonna have the money put into their bank account."
As previously reported by The Root, both she and Johnson kicked off the fund with a $5 million donation each and are continuing to encourage others to donate if they feel so inclined.