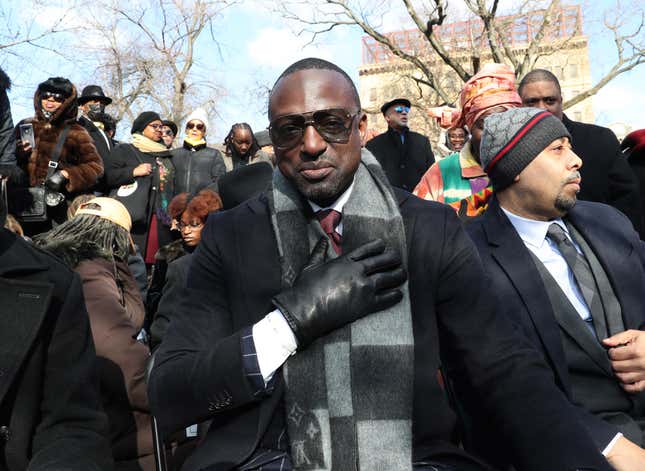 Updated 6/28/2023 at 9:30 a.m. ET  
Yusef Salaam has not had a typical path to politics. At just 15 years old, Salaam was convicted of a crime he didn't commit. Salaam, one of the famous central park five, spent nearly seven years in prison before he was exonerated. Now, he is poised to join the city council.
Small Town Horror Story: The "Suicide" of Sandra Bland
On Tuesday night, Salaam declared victory in the Democratic primary race to represent one of Harlem's districts on the city council. Salaam faced off against two seasoned politicians, New York Assembly Members Al Taylor, and former Harlem City Councilmember Inez Dickens, and came out on top.
"What has happened on this campaign has restored my faith in knowing that I was born for this," Salaam said Tuesday night at his victory party at Harlem Tavern, according to City & State New York. Although there is technically still a general election, Harlem isn't exactly at risk of sending a Republican to the city council.
As we've mentioned, it hasn't been an easy road to political office. Most of us know the name "Yusef Salaam," or at least we know of the Central Park Five, the group of five Black and brown boys wrongly convicted of a horrific rape and assault in Central Park. Today, Salaam is no longer a scared teenager pushed around by law enforcement, the media, and Donald Trump. At 49 years old, Salaam says he's ready to change things from the inside.
His case was simple, who better to address a broken system than someone who's experienced its wrath the most? "Those who are close to the pain need to have a seat at the table," said Salaam at an event in the spring.
His opponents attacked him for his lack of experience and the fact that he left New York in the wake of his exoneration.
"No one should go through what my opponent went through, especially as a child. Years later, after he returns to New York, Harlem is in crisis. We don't have time for a freshman to learn the job, learn the issues, and re-learn the community he left behind for Stockbridge, Georgia," Dickens told the Associated Press.
Salaam has pushed back against this line of attack, arguing that while he may not have political experience, he has a history of fighting against injustice and winning. "I have no track record in politics," said Salaam, according to the AP. "I have a great track record in the 34 years of the Central Park jogger case in fighting for freedom, justice, and equality."
Although the issues with the criminal justice system are obviously a large part of Salaam's platform, issues of poverty and environmental justice were also top of mind for his campaign.
At an event earlier this year, Salaam spoke about why it was important for him to run for office. "What I'm doing here is not about the moment; it's not about the title of being called a city council person," he said. "This is about the movement to resuscitate the very soul that is dormant in Harlem."