When the Golden Globes air on Sunday night, it will mark the start of the 2019 awards season—a season in which we are eagerly anticipating well-deserved recognition for 2018's blockbuster, Black Panther, as well as keeping our eyes on honors for If Beale Street Could Talk, BlacKkKlansman, Sorry to Bother You, and more.
And to commemorate the start of the season, W magazine profiled a few of the remarkable actors of last year's slate of films, including Michael B. Jordan (Black Panther), Regina King (If Beale Street Could Talk), Mahershala Ali (Green Book), Kiki Layne (If Beale Street Could Talk), and Amandla Stenberg (The Hate U Give).

The images are surreal and photographed by Tim Walker, who famously also reimagined Alice in Wonderland with an all-black cast for the 2018 Pirelli Calendar. And for the magazine's three covers, there are some odd pairings: Mahershala Ali with Amy Adams, Kiki Layne cuddling with Jonah Hill and Margot Robbie with Michael B. Jordan.
Inside, a few of our faves dish on their famous—and, in the case of Mahershala Ali, controversial—roles last year; and tell us what we can expect next.
G/O Media may get a commission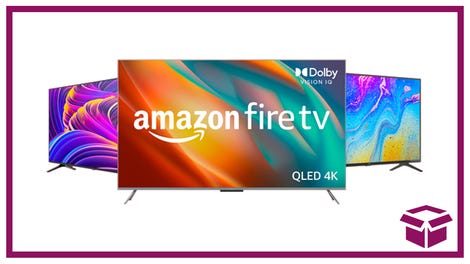 Ooh. stunning.
New Amazon Fire TVs
Michael B. Jordan
"Villains, like Erik Killmonger in Black Panther, are the most interesting characters. They are the ones you can empathize with—they want you to not like them, but you can still understand their motivation," he said. And when asked if there's any challenge to frequently acting shirtless, Michael "Bae" Jordan laid the truth bare.
"I'm always naked. So, no."
Lakeith Stanfield
How did Lakeith Stanfield score his starring role in the surreal Sorry to Bother You?

"The director of the film, Boots Riley, had been following me for quite a while before I finally met him," he revealed. "He handed me the script for Sorry to Bother You—literally put it in my hands. I was like, Who is this strange person? When I read the script, I realized I had no idea how deeply strange he is. But his strangeness revealed itself to be another form of beauty."
What is his dream role? "Soon there will be a black Joker movie, and it will be me."
Regina King
Regina King has already scored an Emmy for her work in Netflix's Seven Seconds, and is now up for two Golden Globes for both that role and her supporting actress turn in If Beale Street Could Talk. And as the Globes are the largest awards ceremony to honor achievements in both film and television, it was appropriate that King divulged her own trajectory in conquering both (and she now directs, as well).

"I took a break from making films. My son, Ian, was getting to the age, around sixth grade, when kids are starting to spread their wings, and everything that was being offered to me was outside of Los Angeles, except for TV," she said. "I didn't want to travel to make films. So I like to say I was one of the first movie actors who made the leap into television."
But those who are considering Beale Street her comeback should think again, King said. "I like to use the LL Cool J song: 'Don't call it comeback. I been here for years.'"
Kiki Layne
Kiki Layne plays King's daughter in If Beale Street Could Talk, her first film role, which she handles with remarkable grace. Less graceful? How she found out she'd won the part of Tish Rivers.
"It was nine in the morning and Barry Jenkins, the director, called and woke me up," Layne recalled. "He just got to talking and didn't introduce himself. Finally, he said, 'Girl, do you even know who you're talking to?' He went on to tell me that they were giving me the role! I was trying to rush him off the phone so I could really go crazy and cry and call my mama."
And though Layne is a red carpet newbie, she's already proving to be a force, winning a spot on our 2018 best dressed list and wowing us with her array of often naturally-textured hairstyles.
"Oh, yeah, we gotta switch it up," she quipped. "You never really know how it's gonna be: Will it be curly? Straight? And watch out when those colors start coming in!"

Mahershala Ali
Mahershala Ali may have misstepped with his role in Green Book, which was panned by the family of Dr. Don Shirley, the man he portrayed. Nevertheless, Ali, who will star in the third installment of HBO's True Detective, premiering this month, is an actor of the highest caliber. Case in point: he studied piano for three months to embody virtuoso Shirley, and explained his process of crafting the character to W.
"I hadn't heard of Dr. Don Shirley, the man with three doctorates whom I play in Green Book," he said. "I looked for his music and found him in a documentary called Lost Bohemia. I was searching for a sense of his essence. There was a healthy pressure to get it right, rather than creating something out of thin air."
Amandla Stenberg
To say Amandla Stenberg has had a breakthrough year would be an understatement. They (Stenberg's purported preferred pronoun) came out publicly as a lesbian, and in The Hate U Give, helped bring to life one of young adult fiction's most lauded recent narratives. It was a role Stenberg says they deeply related to.
"There was an eerie amount of similarities between my life and Starr's, the character I play in The Hate U Give," they said. "I grew up in South Los Angeles but went to a school across town that was mostly white and privileged. Learning the language of that school, but never being quite enough for it, is both Starr's story and my own. Like her, I learned to compartmentalize parts of myself."
Unfortunately, Stenberg wasn't nominated for a Golden Globe this year, but you can follow the winners and attendees along with The Glow Up when our red carpet coverage begins in our Facebook group at 6pm EST!