As a player who starred on his own VH1 reality show, founded his own news network, performed on Dancing With the Stars and became one of the NFL's most flamboyant personalities, Chad Ochocinco always seemed tailor-made for Super Bowl Media Day.
Except this year, the first season he reached the big game and his first season with the New England Patriots.
During his first 10 NFL seasons — all with the Cincinnati Bengals and most before changing his last name from Johnson to his uniform number (85) in Spanish — Ochocinco was among the game's top receivers. He was third in receiving yards and seventh in receptions, touchdown receptions and yards per game. And Ochocinco was notorious for his end zone celebrations, among them a Riverdance rendition, a marriage proposal and a request that the league stay out of his wallet.
But he's been virtually invisible with the Patriots. He was inactive in the AFC Championship game against Baltimore and has only 15 catches for 276 yards and one touchdown all season. He didn't have a seat at a podium Tuesday during Media Day, relegated to standing on the field with the other bit players.
"Why do I need a podium for?" he told reporters. "I've got 3 million followers on Twitter. That's my podium."
Ochocinco, 34, still drew a crowd, but only because his fall from outrageous to obscure is so fascinating. A majority of the questions he fielded contained the words "disappointing" or "frustrating" or "bittersweet."
G/O Media may get a commission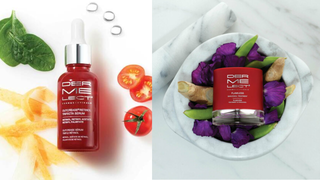 Save $19
Retinol Renewal Kit
To his credit, he swallowed the humble pie with grace.
"The winning experience is always great," he said. "Whether you have a big role, small role or no role at all, that's awesome. Everything this year is something that I've never been used to, and what I've had this year is something I can grow accustomed to."
He was all over the place during Media Day for the previous two Super Bowls, playing the role of journalist with his social media organization, Ochocinco News Network. But he "sold" the rights to OCNN to Jacksonville Jaguars running back Maurice Drew Jones, who paid $3 and renamed it MDJTV.
Jones-Drew was impressed with the way Ochocinco conducted himself Tuesday and throughout a difficult season. "It's tough; he's a playmaker," Jones-Drew told the Boston Globe. "You come from a place where the team kind of needs you to a place where you have to fit into their system. But he's done it the right way. He hasn't complained. He's bit his tongue and he's just gone back to work, so that's what a true professional is."
That's not what anyone was expecting from Ochocinco at Media Day. Then again, it's par for the course based on his experience in New England.
Deron Snyder writes his "Loose Ball" column for The Root. Follow him on Twitter and reach him at BlackDoor Ventures, Inc.