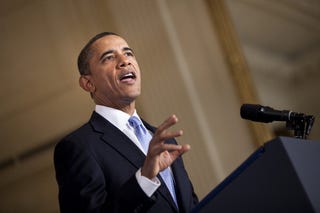 On Friday, President Obama asked Congress for greater power to do something.
Before you talk about hell freezing over, consider that his request adheres to Republicans' "smaller government" talking point. Seeking to streamline the government, save money and eliminate duplicative services, the president wants to merge six federal departments and agencies into one. But instead of restructuring items usually on the GOP hit list, like education, Medicare and social safety net programs, he wants to consolidate agencies that handle trade and commerce.
The organizations in question are the Commerce Department, the Small Business Administration, the Office of the U.S. Trade Representative, the Export-Import Bank, the Overseas Private Investment Corporation and the Trade and Development Agency.
Obama's proposal is the first in a series of mergers he wants to enact. "There are five different entities dealing with housing; more than a dozen agencies involved in food safety," he said in remarks from the White House describing bureaucracy across the federal government. "My favorite example, which I mentioned in last year's State of the Union Address, as it turns out, the Interior Department is in charge of salmon in fresh water, but the Commerce Department handles them in saltwater."
U.S. presidents used to wield power to reorganize the executive branch of government — for 52 years — until Congress stopped authorizing it under President Reagan in 1984. If Congress heeds Obama's request to reinstate it, he would be allowed to present lawmakers with his specific proposals, followed by up-or-down votes within 90 days.
On Friday he outlined his first proposal, which came from discussions with hundreds of business leaders, to consolidate the government's six trade and business operations. According to the president, small-business owners complained to the administration that overlapping departments and programs were confusing, leaving them unsure of where to turn when they needed help. "With the authority I am requesting today, we could consolidate them all into one department with one website, one phone number and one mission," Obama said, "helping American businesses succeed."
The president's parting thought was that his idea can draw bipartisan support. "Making our government more responsive, strategic and leaner should not be a partisan issue," he said. But will it?
Christian Dorsey, director of external and government affairs for the Economic Policy Institute, says that Congress won't grant Obama consolidation authority without a high price. "In an election year, a Republican Congress is not likely to advance the initiatives of a Democratic president without at least trying to exact something in return," he told The Root. "This is going to be political; it's not going to be about the merits of the proposal."
One area in which the president may be vulnerable is the federal workers who would stand to lose their jobs as a result of this reorganization. According to White House officials, 1,000 to 2,000 jobs would be cut through attrition — phasing out the positions as people routinely leave over time. "The real impact, then, will likely be having fewer jobs available for the existing labor force that's underutilized," said Dorsey. "But with 2,000 being the number, that's not going to have a huge effect on the larger economy."
Since Republicans often argue that government gets in the way of business owners, a merger to make government assistance more efficient seems like a positive step. But we'll see, when congressional leadership responds, whether it will be so simple.
Cynthia Gordy is The Root's Washington reporter.