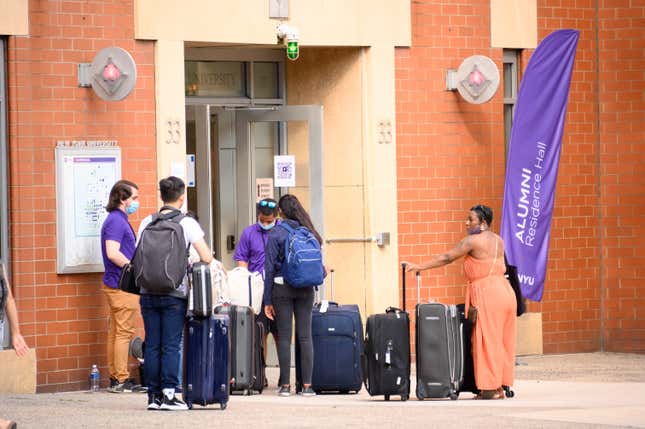 The Supreme Court finished issuing its biggest decisions of the term last week, but that doesn't mean we're done talking about them. On Thursday, the court gutted race-conscious affirmative action, putting serious limits on how and when colleges can use race in admissions. The ruling will have the greatest impact on highly-selective colleges with lower admissions rates. So who better to talk to than the students at those universities.
Afraid Of Losing Political Power, White People Weaponize "Identity Politics"
The Root took a trip over to New York University, a private college with a 13 percent acceptance rate. And it should come as no surprise that NYU students had a lot to say about the decision.
"The results are devastating," says Maya Strong, a rising senior studying PreLaw at NYU. "Just being a Black woman who has young Black brothers, who have other family members wanting to go to higher education, it's just a devastating decision."
CJ King, another rising PreLaw senior at NYU, says he's nervous about the impact the decision will have on diversity at top law schools like NYU. "We already know that these classrooms are predominantly white," says King, who says he picked NYU because he wanted to learn in a diverse environment. "How, then, does this change the dynamics of schooling."
Both King and Strong said that when they got into NYU, some people assumed that it was because of affirmative action. "I remember when I got my decision to colleges, I heard, 'Oh, you were just accepted because you're gay; you were just accepted because you're Black.' And it's like no, I worked my ass off," says King, who was at the library studying for his LSATs.
Strong says the premise of those accusations is insulting. "It's disrespectful to all of the time and work we put into getting to college," she says.
Unlike some of her classmates, Strong says she didn't have a tutor to help with test prep or someone to buy her expensive prep materials. "I remember talking to some of my classmates at NYU, and they were like, I had an SAT tutor and stuff like that, and I didn't have a tutor," she says. "I didn't even have the workbooks. It was just finding free pdfs of SAT and ACT tests online to practice. To put in all of that effort to be told you're only here because you're a Black woman, it's like damn, ok."
Not everyone at NYU necessarily disagreed with the Supreme Court's affirmative action ruling. "I'm not surprised that [the Supreme Court] said it's not ok," says Marcel Cado, an incoming Freshman.
"Personally, I feel as though it should be more on income than purely race," says Kado, who is Black, "because I know people who are the same race as me who make a lot more money than I do, who would probably not need to be helped who as much as someone who doesn't make as much."
Billy, a Mexican-American rising sophomore, said he felt that the Supreme Court's decisions in both the Harvard and University of North Carolina cases were misinformed. Billy says that the basis for the case, which was that the schools were discriminating against white and Asian applicants, was inaccurate.
"[Affirmative action] was giving more opportunities to underrepresented communities, like Hispanic, Latino and Black communities," he says, "because historically they're less represented in colleges, and colleges wanted to give them a better chance because they don't have the same opportunities to get there."