A New York teen testified against his sister after a brutal beating that severely injured him and killed his older brother, The Guardian reports. 
Christopher Leonard, 17, was hospitalized for several days after authorities say that he and his older brother, 19-year-old Lucas, were beaten by their parents, sister and other church members at the secretive World of Life Christian Church in upstate New York. According to the report, the "counseling session" was brought on by Lucas Leonard's desire to leave the church. Lucas Leonard ultimately died of injuries suffered in the beatings. 
The preliminary hearing Wednesday was meant to determine if prosecutors had enough evidence to pursue a case against the teens' sister, 33-year-old Sarah Ferguson. New Hartford (N.Y.) Town Justice William Virkler concluded that there was enough evidence to continue with the charges against Ferguson, who is Christopher Leonard's half-sister. 
Christopher Leonard testified that after a Sunday service on Oct. 11 that went from 11:45 a.m. to 8 p.m., the pastor, Tiffanie Irwin, asked the family and others to stay behind for a meeting. Ferguson, along with the teens' parents, Bruce and Deborah Leonard, and three other church members, beat the brothers with fists, feet and electrical cord, authorities charge. 
According to Syracuse.com, the group used a 4-foot cord "made into a whip" to beat Christopher Leonard's back, thighs, arms and genitals. Christopher Leonard was hospitalized with injures to his torso and genitals. Lucas Leonard died of injuries he suffered. The news site reports that authorities believe the brutal beating and questioning went on for about 12 hours. 
G/O Media may get a commission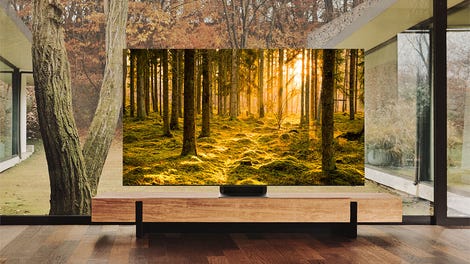 Up to 40% off
Samsung Smart TVs
Bruce and Deborah Leonard were charged with manslaughter and were being held on $100,000 bail. Ferguson, who has four children, was also in custody after being charged with assault. The three other church members were also charged with assault. All six individuals have pleaded not guilty, The Guardian reports. 
An attorney representing Deborah Leonard said that the woman was too scared to stop the beating. 
Read more at The Guardian and Syracuse.com.