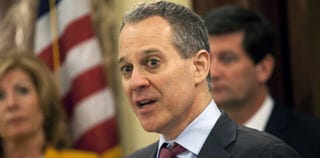 New York Attorney General Eric Schneiderman has heard enough about Barneys and Macy's and is launching a probe into both upscale retail giants after four complaints detailing racial profiling surfaced in the past week, the Daily News reports.
Letters were sent to executives of both companies asking for their practices when determining whom to stop, detain and search. The Daily News obtained a copy of the letter and is reporting that each company has until Friday to respond.
"Attorney General Schneiderman is committed to ensuring that all New York residents are afforded equal protection under the law," Kristen Clarke, who heads the AG's civil rights bureau, wrote to Barneys CEO Mark Lee and Macy's Chief Stores Officer Peter Sachse.
"The alleged repeated behavior of your employees raises troubling questions about your company's commitment to that ideal," Clarke told each of them, the Daily News reports.
Read more at the Daily News.