NPR Friday named Kinsey Wilson and Margaret Low Smith as top executives in the NPR News chain of command, apparently without considering any people of color for the positions.
In January, Alex P. Kellogg, one of NPR's two black male on-air journalists, left the network after 14 months on the job, reaffirming that the network's decades-old issues regarding diversity have yet to be solved. (Sonari Glinton, recently reassigned to Washington from Detroit, is the remaining black male reporter.)
Those issues are often attributed to a corporate culture that outlasts management changes, and some have suggested that an African American man high in the news chain of command, in addition to sending an important message, would have less tolerance for that culture.
Asked whether NPR considered any people of color for the jobs filled Friday, spokeswoman Anna Christopher said:
"We have people who are uniquely qualified to meet the challenges of our organization. As Gary has said to staff several times, he favors developing leaders and staff across the organization, though there certainly are times where a new perspective and other experiences are beneficial and necessary.
G/O Media may get a commission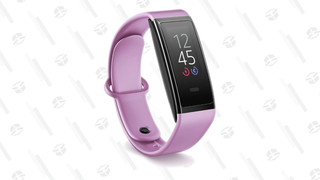 44% Off
Amazon Halo View Fitness Tracker
"NPR remains committed to diversifying our staff, content and audience in terms of age, ethnicity, geography and perspective. That will continue. It does not mean that every job will be opened."
The reference is to Gary Knell, who told Journal-isms when he was appointed NPR president and CEO, "I made diversity a key part of my pitch to the NPR board to get the job" and that "this is a big part of my agenda."
Knell did, however, announce what he called an expanded role for Keith Woods, a black journalist who is vice president of diversity in news & operations, in working with NPR member stations.
The 2009 departure of Greg Peppers left Keith W. Jenkins, supervising senior producer for multimedia, as the sole African American man in NPR newsroom management.
Friday's announcement said Knell "announced a new executive structure to create a shared vision and greater alignment across all content areas. Leading this collaborative strategy will be Kinsey Wilson, who has been promoted to the new role of Executive Vice President and Chief Content Officer. He will set the direction and oversee the operations for all of NPR's content areas: news, programming and digital media. Margaret Low Smith will permanently lead NPR News as Senior Vice President, a position she has been acting in since January 2011. These changes are effective immediately.
". . . Wilson has driven digital innovation at NPR since 2008, when he joined the organization as Senior Vice President and General Manager of Digital Media. He led the development of NPR's industry-leading web and mobile platforms, implemented successful local-national editorial partnerships with Member stations, and spearheaded editorial initiatives that combined radio and digital delivery. Wilson has led both online and converged newsrooms at three organizations, and was a reporter for the first half of his 30-year career.
"Over the past 13 months, Smith has led NPR News through a succession of extraordinary news events: from the Arab Spring, to the earthquake and tsunami in Japan, to the death of Osama Bin Laden. As Senior Vice President, Smith will continue to oversee the day-to-day operations of the News division and its staff of nearly 400, including more than 100 reporters and correspondents based in 17 foreign and 18 domestic bureaus and offices. Smith first joined NPR 30 years ago. Before stepping in to run the News division, she was Vice President for Programming beginning in 2000.
". . . Knell also announced an expanded role for Keith Woods, Vice President of Diversity in News & Operations. Woods will broaden his collaborative work with Member stations to support public radio's push for greater diversity in its audience, staffing and content. To have a direct line into NPR's work with its community of stations, Knell will have Woods and Joyce MacDonald, Vice President for Membership and Audience Partnership, report to him."
Smith has led the news operation since Ellen Weiss resigned in January 2011 in the aftermath of the flawed handling of the firing of Juan Williams, an NPR contributor who became a full-time Fox News staffer. NPR president Vivian Schiller also resigned after the incident. 
Adam Powell, USC Annenberg Center on Communication Leadership & Policy: NPR CEO urges 'four diversities' to broaden audience, public service [Feb. 17] 
Brian Stelter, New York Times: With Promotion, NPR Signals Growing Prominence of Digital Media
"For the first time in our history, we have a Spanish sentence as our cover line: Yo decido. I decide," Time Managing Editor Rick Stengel says in describing the cover of this week's magazine.
But the magazine won't say whether any Latino journalists worked on the project or even how many write or edit at the publication. Time lost its sole black correspondent in January when Steven Gray left.
Asked those questions, Time spokeswoman Ali Zelenko responded in an email to Journal-isms, "We're proud of it and believe that it speaks for itself," referring to the issue. 
"In this week's cover story, TIME's Michael Scherer explains why Latinos could prove the crucial swing vote of the 2012 election," Time said in a news release. ". . . In an exclusive interview, Sen. Marco Rubio [R-Fla.] tells TIME: 'What's the Republican legal-immigration plan? And that's a problem, when all they [Latinos] hear from you is what you're against and not what you're for.' "
The project's execution was marred by one embarrassment. Michelle Woo wrote Friday for OCWeekly, "The cover illustration is made of 20 different portraits of Latino men and women in Phoenix, all photographed by Marco Grob. In classic Time form, it's clean and powerful.
"Except that at least one person pictured is not actually Latino.
"A friend of mine, Michael Schennum, is the short-haired gentleman in the top row, center, behind the letter 'M.' He is half Chinese and half white Irish and Norwegian. Not Latino. Not even a little bit. Not even one of those Chinese-Mexicans from Mexicali that OC's own Robert Chao Romero likes to write about. At least as far as Schennum knows."
Notice of the gaffe was quickly picked up by NBC Latino, New York magazine and others.
Time replied, "Over the course of three days TIME photographed 151 people for the current cover. We took steps to ensure that everyone self-identified as Latino, that they are registered voters and that they would be willing to answer our questions. If there was a misunderstanding with one of our subjects, we apologize."
According to "Jose Marti," writing for latinorebels.com, the cover story was nonetheless a hit. "The Latino online world responded positively, given that very little mainstream coverage is being given to the obvious fact that the US Latino demographic is a key swing bloc for the 2012 election," this writer said.
An essay by Mariela Dabbah on the Fox News Latino site was headlined, "Time Magazine Cover Features Latinos – Finally!"
Dabbah is CEO of Latinos in College, a website that assists students aspiring to higher education. She wrote, "For the last three or four years I've regularly sent letters to Managing Editor Richard Stengel requesting more stories about Latinos, other than the occasional mention in a negative story discussing how poorly Hispanics do in education or how much they are affected by diabetes.
"I wrote letters to complain about the lack of Latinos in Times' list of 100 Most Influential People. What about the innovators, scientists, teachers and entrepreneurs who are impacting our economy and our lives? Are you telling me that among a population of 50 million Time couldn't find one influential Latino worthy of the list? The only Latin American who made it in 2011 was Argentine soccer star Lionel Messi who lives in Barcelona."
Dabbah was pleased by the cover story, she wrote, but added, ". . . I can't help wonder if the front cover reflects an honest recognition of the power of Hispanics in the country and it is the beginning of ongoing coverage, or if it only plays to an election year's news-cycle."
U.S. State Department: More U.S. Hispanics Earning College Degrees
The Beverly Hilton Hotel has fired staffers for talking to the press about Whitney Houston's death in the hotel, RadarOnline.com reported on Thursday.
Meanwhile, Rene Lynch reported in the Los Angeles Times, the National Enquirer's cover photo of Houston lying in an open casket is "unleashing new questions about how the photo was obtained and whether the supermarket tabloid has finally gone too far."
As RadarOnline reported, "Houston, 48, died after consuming a fatal mix of Xanax, Valium and alcohol on February 11, just hours before Clive Davis' annual pre-Grammy party."
The public appetite for news about Houston is far from sated. "Pictures of Whitney Houston blanketed newsstands this week, as just about every celebrity title had the former pop star on its cover following her death in a Beverly Hills hotel room on Feb. 11," Amy Wicks reported for Women's Wear Daily.
"The numbers are in and it appears the last-minute scramble for coverage of Houston's life and death resulted in larger-than-average sales for those titles that had her image on the cover, according to industry sources." 
Mia Fields-Hall, loop21.com: Is It Time for a Black News Network?  
Tom Joyner, blackamericaweb.com: Mourning Whitney Houston? Look to Her Music
"Belva Davis, an icon of Bay Area journalism for nearly half a century, will step down as host of public television's 'This Week In Northern California' this fall, KQED-TV announced Wednesday," Nanette Asimov reported for the San Francisco Chronicle.
"Davis' final broadcast will be Nov. 9, ending her 19 years as anchor of the program featuring journalists chatting about California news comfortably around a table.
"What makes Davis' departure extraordinary is that for the first time since 1964, Bay Area television viewers will be without coverage from the journalist who used grace and brains to face down the era's virulent racism and sexism and become the first black woman TV journalist in the West.
" 'I have enjoyed a unique and long career here in the Bay Area and have been witness to some of the most explosive stories of the last half century,' said Davis, the winner of dozens of journalism awards, including eight local Emmys. 'I began my career with the coverage of the 1964 elections, and I'm thrilled that I will be devoting my last months on the air to the elections of 2012.'
"During the 1960s and '70s, Davis covered violent student protests during the Free Speech Movement at UC Berkeley, the birth of the Black Panthers, the Peoples Temple cult that led to mass suicides in Guyana, the assassinations of San Francisco Mayor George Moscone and Supervisor Harvey Milk, the AIDS epidemic, and the terrorist attacks on the U.S. Embassy in Tanzania that brought Osama bin Laden to the attention of the FBI."
Davis' memoir, "Never in My Wildest Dreams: A Black Woman's Life in Journalism," was published a year ago.
New York Times op-ed columnist Charles M. Blow expressed regret Friday over a Twitter posting that referenced the Mormon religion of former Massachusetts governor Mitt Romney, as CNN's suspension of another tweeting commentator, Roland Martin, entered its third week.
"We don't have a date set for when he'll return," a CNN spokeswoman told Journal-isms by email. CNN suspended Martin on Feb. 8 over tweets that the Gay and Lesbian Alliance Against Defamation denounced as anti-gay. The network said then, "Roland will not be appearing on our air for the time being." Martin has since apologized and met with GLAAD.
Blow tweeted on Wednesday night after the Republican presidential candidates' debate, "Let me just tell you this Mitt "Muddle Mouth": I'm a single parent and my kids are 'amazing'! Stick that in your magic underwear. #CNNdebate"
Ben Smith explained for buzzfeed.com, "Mormon men and women wear 'temple garments' beneath their clothes as a reminder of their religious commitments, a rough equivalent of Jews' yarmulkes or tzitzit."
Blow tweeted on Friday, "Btw, the comment I made about Mormonism during Wed.'s debate was inappropriate, and I regret it. I'm willing to admit that with no caveats."
Arthur S. Brisbane, the Times' public editor, commended Blow. "I applaud @CharlesMBlow for apologizing for his tweet on Romney. Criticism based on religion is inappropriate, on Twitter or anywhere else," Brisbane tweeted.
In Wednesday night's debate, Romney praised two-parent families, saying, "When you have 40 percent of kids being born out of wedlock, and among certain ethnic groups the vast majority being born out of wedlock, you ask yourself, how are we going to have a society in the future? Because these kids are raised in poverty in many cases, they're in abusive settings. The likelihood of them being able to finish high school or college drops dramatically in single-family homes. And we haven't been willing to talk about this.
"And when we have programs that say we're going to teach abstinence in schools, the liberals go crazy and try and stop us from doing that. We have to have a president who's willing to say that the best opportunity an individual can give to their unborn child is an opportunity to be born in a home with a mother and a father." 
Wayne Bennett, the Field Negro: A new low.  
Mary C. Curtis, Washington Post: A president of all the people?  
Jocelyn Fong, Media Matters: What Reporters Are Getting Wrong About Gas Prices  
Bob Quasius Sr., Latina Lista blog: Only one out of the four GOP presidential nominees has it right on illegal immigration
"Located in New York City, an area known as a melting pot for languages and cultures, Voices of NY wants to be heard," Nu Yang wrote Friday for Editor & Publisher.
"Originally called Voices That Must Be Heard, the site was the first online publication in the country to focus exclusively on ethnic media. It was launched after the 9/11 attacks as a way to give a voice and an outlet to Muslims living in New York, but later expanded to include other ethnic groups.
"Early last year, the City University of New York Graduate School of Journalism assumed ownership of the site from the New York Community Media Alliance and redesigned and relaunched the website as Voices of NY (voicesofny.org). It was a natural fit for the school, which is also establishing a Center for Community and Ethnic Media. The center will be a resource, not only for the school, but for the city's ethnic journalists, by exploring new digital tools, offering professional training, and promoting activities to strengthen the bonds between different ethnic communities.
"So far, more than 200 journalists from about 30 news outlets, such as KoreaDaily, Bangla Batrika, and Caribbean People, have participated in free digital media workshops offered by the school.
"Voices of NY gathers journalistic work produced by community and ethnic publications and translates it and Haitian Times publisher Garry Pierre-Pierre said students follow certain websites for stories and then pitch the articles at editorial meetings. Once they are approved, stories are translated, edited, and uploaded to the Voices of NY site. A direct link to the original source is also posted. The result is more website traffic to the publications, Pierre-Pierre said.
"About 80 news organizations have partnered with Voices of NY in this endeavor." 
Breanna Roy, KPAX News, Missoula, Mont.: New online source for Native news unveiled
"Shukree Hassan Tilghman's relationship with Black History Month is complicated," Greg Braxton wrote last week for the Los Angeles Times.
"On the one hand, Tilghman is grateful that PBS is airing his first documentary, 'More Than a Month,' along with a number of other such projects during Black History Month. On the other hand, in the film, he wanders New York's Times Square wearing a sandwich board sign reading, 'End Black History Month.'
" 'Yes, the irony is not lost on me,' Tilghman, 29, said with a smile prior to a screening of his project in Pasadena.
"The documentary . . . spotlights a long-simmering debate within black creative circles about the value of the annual February observance, particularly at a time when the president of the United States is a black man. While many historians and filmmakers are delighted that African American history is in the spotlight, others call such programming a double-edged sword that ghettoizes black stories into the shortest month of the year and discourages further attention on them in the remaining months." 
Suzanne Gamboa, Associated Press: What's Next For The Soul Train Brand?
TheGrio.com: Hey Hollywood, adapt these black stories ASAP! (Slideshow)  
Jerry Large, Seattle Times: Leaders no strangers to slavery  
Julianne Malveaux, USA Today: Blacks must adjust to changing times  
Mary Mitchell, Chicago Sun-Times: No one said it like Lucille Clifton  
Greg Morrison, director, for WLAE-TV, New Orleans: "Feeding Freedom" (a look at the meals that helped change history) (Video) 
Leonard Pitts Jr., Miami Herald: Black history and the art of denial  
Rochelle Riley, Detroit Free Press: National African-American history museum to shine light on local museums  
Gary Younge, the Guardian, Britain: Marriage equality and the civil rights inheritance
"Move over Facebook, BlackPlanet is back. BlackPlanet Next, the new iteration of the 12-year-old mainstay, has been redesigned into a social curation engine targeting African-American consumers," Marcia Wade Talbert reported Wednesday for Black Enterprise. "Before the phrase 'social network' became a household name, Black Planet had millions of users. . . . For a time, the site's success seemed boundless — that is until the advent of MySpace, Friendster, and Facebook."
"Jeremy Lin wants to own the term 'Linsanity,' Mason Levinson and Scott Soshnick reported Thursday for Bloomberg News. "Lin, who has rejuvenated the New York Knicks over the past two weeks, moved to take control of the catch phrase that's encapsulated his meteoric rise, filing an application on Feb. 13 with the U.S. Patent and Trademark Office, according to the agency's website." Sree Sreenivasan, reporting for CNET on "digital-media lessons I've learned from the frenzy around Lin," wrote that Lin was gaining as many as 60,000 Twitter followers in a single day.
A survey commissioned by Craigslist founder Craig Newmark found that 22 percent of news consumers said newspapers were "very credible" in accurately reporting on politics and elections. Among black respondents, nearly a third said newspapers were very credible, compared with 22 percent of whites and 13 percent of Hispanics. Blacks also ranked network news more highly: 32 percent said very credible compared with 21 percent of whites and 15 percent of Hispanics. Also measured were attitudes toward cable news, talk radio, Internet news sites and social media.
"The Associated Press published a story today detailing how, in 2007, undercover New York Police Department officers investigated the Muslim community in Newark, N.J., producing a secret report profiling mosques, Islamic schools and Muslim-owned businesses and restaurants," Justin Elliott reported Tuesday for ProPublica. ". . . Besides being significant on its own, that conclusion contradicts claims by New York Mayor Michael Bloomberg last year about how the NYPD operates."
"ESPN.com has signed Basketball [Hall of Famer] Kareem Abdul-Jabbar as a columnist," Eric Fisher reported Thursday for SportsBusiness Journal. "Abdul-Jabbar, the NBA's all-time leading scorer and now a best-selling author and head of the Skyhook Foundation, will write a bi-weekly column covering a wide range of sports-related topics."
CBSSports.com writer Mike Freeman tweeted that the cover of Pro Football Weekly is "an embarrassment, borderline racist, totally unnecessary," Jim Romenesko reported Friday on his blog. "I'm looking at cover now. Pic of Luck and RGIII with headline 'It's Not As Simple as Black and White.' " Freeman said. Hub Arkush, publisher/editor of Pro Football Weekly, responded, "I assume Mr. Freeman hasn't had an opportunity to read the cover-story package yet. I believe that if he does he will agree the use of the headline was fitting and appropriate. One of the stories in that package compares quarterbacks Andrew Luck and Robert Griffin III, who are expected to be the top two picks in the draft, and notes that the question of which one is the better prospect is not as clear-cut as it seemed earlier this season, when Luck was the consensus No. 1. A companion piece reports that African-Americans are still under-represented at the quarterback position relative to other positions in the NFL, and explores whether race is a still a factor in the development and evaluation of quarterbacks . . . " Freeman told Journal-isms via email, "I don't buy the explanation, no. It was still a cheap and obvious play on race. And to be clear I don't think it's flat out bigoted but it's damn close."
"Earlier this morning, Mediaite posted a story that [misinterpreted] a Tweet by Touré, saying he was defending Chris Brown," Nando Di Fino wrote Thursday for Mediaite. "Moments later, a torrent of Tweets and emails came flowing in, correcting our error. It was shoddy journalism on our part; a look at his feed before and after the comment would have confirmed his true intention — criticizing Brown." Here is Toure's essay.
New York Times columnist Bill Keller, the Times' former executive editor, was asked Wednesday by Joe Pompeo of Capital New York, ". . . how can the Times not reflect its own cultural milieu?" Keller replied: "We can't entirely leech the New York-ness out of The New York Times. If we somehow achieved absolute objectivity, it would be kind of tedious to read. ... Watching The New York Times try to be even-handed on some issues is like trying to watch somebody dance their kids' dance styles. We look like we're trying too hard. Yes, we should be even-handed, we should certainly follow the basic rule of reporting, challenging your assumptions, and we should be ruthless about having a public editor or an editors' note to call ourselves out. ... But it is possible to be fair and still radiate a cultural persona."
"A Fayetteville State University student got to ask a question during a White House press briefing while on a school trip to Washington this week," Steve DeVane wrote Friday for the Fayetteville (N.C.) Observer. "Sophomore April Love asked White House press secretary Jay Carney about educational initiatives President Obama has in place to help prepare college students for success. She was one of 14 FSU students who went on the journalism-focused trip to Washington. . . . White House spokesman Kevin Lewis said the visit was not part of a formal program. 'We felt it was an opportunity for the students to have a hands-on experience of what it's like to cover the White House,' he said."
In Houston, "Former KTRK 13 anchor Minerva Perez is moving over to KHOU 1," Mike McGuff reported Wednesday on his blog. Her show, Latina Voices, will still air on Houston PBS KUHT 8 Sundays at 2:30pm, and will also air on channel 11 Sundays at 5:30am. Perez is still joined by co-host Sofia Adrogué, but Patricia Gras has left the show to focus on her career."
Media blogger Jim Romenesko is the subject of articles in American Journalism Review and on adage.com. "In just a few months, JimRomenesko.com already has more than 300,000 monthly visitors and the posts are as fresh and sharp and funny as ever," Matthew Creamer wrote Thursday for adage.com. On Friday, AJR profiled Andrew Beaujon, Romenesko's successor at the Poynter Institute. Poynter's Julie Moos "says she was looking for 'someone who would bring new ideas, new perspectives and new voices to journalism coverage. Andrew wasn't immersed in news about media or entrenched in an insider's network, and that turned out to be tremendously appealing.' "
In Kenya, Truth, Justice and Reconciliation Commission public hearings in Nairobi ended Wednesday, the Nairobi Star reported, Veteran journalist Paul Amina testified, ". . . I was tortured, and hit with a blunt metal object, my toe-nails came off." Meanwhile, "The US-based Committee to Protect Journalists (CPJ) says in a report released on Tuesday that Kenya, like the UK and the US, is a preferred destination for journalists fleeing mistreatment especially from countries in eastern Africa," Aggrey Mutambo reported for Kenya's Daily Nation.
Follow Richard Prince on Twitter

Facebook users: "Like" "Richard Prince's Journal-isms" on Facebook.
Journal-isms is published on the site of the Maynard Institute for Journalism Education (www.mije.org). Reprinted on The Root by permission.