The night before leaving for college, Malana Wells was excited.

Malana Wells was thrilled about leaving her hometown in the suburbs of Cleveland, Ohio, to study in the Black Mecca of Atlanta. She was eager to become a student at a historically black university. As a 2018 high school graduate, Malana was even enthusiastic about the opportunity to continue her education.
But Shirelle Copeland, Malana's mother, was nervous.
Her anxiety didn't come from the fact that she was sending her 18-year-old daughter halfway across the country. She wasn't even nervous about the money she had spent on flights, hotel rooms and a rental car to take her daughter to begin her freshman year at Clark Atlanta University.
Copeland was nervous because she had no idea what was going on.
Copeland didn't know what she was supposed to do when she arrived at Clark. She had been trying to contact the university's financial aid department for weeks, to no avail, so she had no idea how much money she owed for her daughter's first year. She didn't even know where on campus her daughter would be living.
G/O Media may get a commission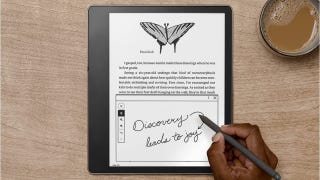 Releases November 30
Borrowing the display from the much-beloved Paperwhite, this screen provides a glare-free experience both indoors and outdoors so you can read by the pool or on the beach on a sunny day. New to this model is the inclusion of a pen. Take notes directly on the pages as you might in a traditional book, but the notes are automatically organized by title in a single place–letting you review and export them with ease.
According to Copeland and documents provided to The Root, Copeland attempted to contact the financial aid and housing departments at Clark dozens of times for more than a month. Unable to reach anyone in the financial aid or housing department, she desperately began dialing numbers to every administrative office she could find.
She finally reached a woman identified in emails as Ms. Udley, who tried to assist Copeland with the enrollment process and determining her daughter's financial standing with the school.
"We finally figured out that there was about a $4,000 gap between what financial aid provided and what I owed, which was what I expected," Copeland explained to The Root.
Even though this was not official, and she still hadn't spoken to anyone in the financial aid department, Copeland booked nonrefundable flights and prepared to take her daughter to Clark to begin her freshman year.
"They told me there was a housing issue but assured me they would handle it. Every time I called they told me 'We're in meetings about it, don't worry, she'll be fine,'" Copeland said. "But the night before I left, I got a gut feeling that I should call again. And that was the day I found out that I had to come up with $8,000 if my daughter was going to attend Clark.
"They told me she was 'not financially enrolled,'" said Copeland. "I had no idea what that means. I have a sophomore in college and I've never heard that in my life. How is she 'not financially enrolled' if they've accepted her financial aid award? It just doesn't make sense and there was no one who can give you a clear understanding of what the procedure is.
"This was my first time dealing with an HBCU [Historically Black College or University] and it was not good at all."

---
It turns out, Shirille Copeland's last minute call may have been a good thing after all because it could have been worse. Her daughter could have been homeless.
Dozens of Clark Atlanta University students were denied housing just 24 hours before classes were scheduled to start according to WSBTV in Atlanta. Like Malana Wells' situation, the university has resorted to blaming the problem on students and parents not completing the financial enrollment process.
Further complicating the mess is the fact that there is no off-campus alternative because, according to the college's housing and residence life policy, "all students enrolled or accepted to Clark Atlanta University will be required to reside on the campus until they have earned 58 or more credit hours."
You read that correctly. Freshman and sophomores are required to live on campus even if they have no place to stay. While the university policy forcing students to use something that is not available to them might sound as contradictory as making Miley Cyrus twerk or forcing Donald Trump to get a brain scan, I've been told that the grass at Clark Atlanta is really plush. It's so soft, you could almost sleep on it.
Almost.
Incidents like Wells' are not rare at Clark Atlanta. Other parents have experienced the same issues with communication, clarity on financial aid and understanding what "financial enrollment" consists of. At least 150 students arrived at CAU only to find out that they had no place to live.

In a story that sounds eerily similar to Copeland and Wells', Nicole Redd, another mother of a student, described driving down from Baltimore only to discover that her daughter was "not financially enrolled" and had no housing, according to the Atlanta Journal-Constitution. Other parents have reached out to The Root and aired their frustration on social media.


Clark Atlanta's crisis is indicative of the problems of many small colleges. Institutions that are financially strapped or don't have large endowments like larger, predominately white institutions that often survive on the revenue from tuition and housing. Because of this, these kinds of issues become prevalent, especially at historically black colleges.
Sara Goldrick-Rab, a professor of higher education policy and sociology who researches college housing at Temple University, says colleges force students to live on campus oftentimes because colleges view housing as a money-maker.
"It often isn't. It is hard to do housing well," Goldrick-Rab, told Diverse Education, "Schools are making estimates. They're making projections … and they're hoping that they get it right."
Clark Atlanta insists they explained the housing and financial aid process clearly and says they have housing for all of the students who are financially enrolled. Apparently, Clark believes that 150 students refused to follow directions, are lying or they prefer the campus' thick Bermuda grass lawns to dormitory life.
In response to inquiries from The Root, Sam D. Burston, CAU's vice president and chief advancement officer in the Office of Institutional Advancement and University Relations, emailed us the following statement on Wednesday, August 15:
As of 5:00 PM today, we have assigned housing to all freshmen and sophomores seeking on-campus accommodations who have met the financial enrollment requirements.

On-campus housing is still available for any additional freshmen and sophomores who become financially enrolled.

In addition, we are working with upperclassmen seeking housing to complete the financial enrollment process. Students in temporary on-campus housing have been notified that they have until Thursday, August 16, 2018, to fulfill their financial obligations.

The Office of Student Services and Campus Life's operating hours remain 9:00 a.m. to 5:00 p.m.; all students signed in by 5:00 p.m. will receive service.
---
Malana Wells ultimately stayed in Ohio and enrolled in Kent State University.

After Shirelle Copeland decided not to risk her daughter's college education on what she views as an unresponsive and inept administration, she chalked up the more than $1,000 she spent on flights, hotels and rentals as a lost cause and her daughter's disappointment as a "hard lesson she had to learn."
But she assumed, for the sake of decency, that Clark Atlanta would at least refund the $475 "confirmation fee" required of all incoming students. After all, if her daughter, like the 150 or so other students, was "not financially enrolled," then what exactly were they confirming by paying $475?
"I ended up at the president's office after calling them probably about 100 times repeatedly until they hung on me," Copeland said. "They refused to allow me to wait on hold for the president. They refused to give him the phone. They kept saying he wasn't there for days at a time."
Copeland finally received a letter from Associate Vice President of Enrollment Michael J. Marshall informing Copeland that he "engaged the primary stakeholders to thoroughly review" her refund request. But the refund request was denied "after careful thought and deliberation." After the letter was emailed, it seems as if Clark Atlanta University blocked all email communication from Copeland, according to documents received by The Root.
While Copeland acknowledges that "everything happens for a reason," she admits she is not only left with a hole in her pocket but the calamity made her reluctant to send her daughter to any historically black college or university.

"I'm a single black mother trying to get my daughter into higher learning and this is the experience you leave me with?" she asked. "I was told that this was to be accepted at an HBCU. I even heard Tom Joyner say it. But why are we expecting that? We wouldn't accept it from anywhere else," Copeland explained, adding:
"They are literally responsible for the lives of our children ... our future. If they can't handle something as simple as providing a bed and a roof over their heads, why would I send my child there?"
Copeland's argument sounds reasonable...
But dat grass, tho!