First Lady Michelle Obama announced Tuesday that the 2012 Democratic National Convention will be held in Charlotte, North Carolina.
"Charlotte is a city marked by its southern charm, warm hospitality, and an 'up by the bootstraps' mentality that has propelled the city forward as one of the fastest-growing in the South," Mrs. Obama wrote in an email to Democratic supporters explaining the decision.
There's also the fact that in 2008 her husband narrowly defeated Senator John McCain in North Carolina, winning by 12,000 votes. The choice of Charlotte signals President Obama's intention to compete for the state again, and the South in general.
One can only hope that the Dems' focus on North Carolina will also draw attention to a disturbing trend in some of the state's public schools. In 2002, the Charlotte-Mecklenburg school district responded to budget cuts by eliminating a longstanding busing program designed to ensure diversity. The move effectively re-segregated schools by race and income – and now another district is following suit. 
In Wake County, which includes the city of Raleigh, the school board recently struck down its program of integrating schools based on socioeconomic status. By avoiding concentrations of poverty, Wake County schools have drawn high-quality teachers throughout the entire region. Supporters of the program note that its students, of all races, outperform state and national averages.
Backed by national Tea Party conservatives, the Wake County school board voted in January to eliminate the plan in favor of creating neighborhood schools. Portraying the program as unwanted "social engineering" that causes frequent school reassignments, board members argue that re-segregating schools will actually benefit poor students by making their problems easier to see.
G/O Media may get a commission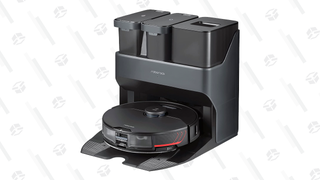 24% off
Roborock S7 MaxV Ultra Robot Vacuum and Mop
"If we had a school that was, like, 80 percent high-poverty, the public would see the challenges, the need to make it successful," board member John Tedesco told the Washington Post. "Right now we have diluted the problem, so we can ignore it."
So, you see, concentrating poor kids in separate schools is for their own good!
Not so convinced is U.S. Secretary of Education Arne Duncan who, in a letter to the Washington Post, called the backslide to segregated schools troubling. The Education Department's Office for Civil Rights has also started an investigation of the Wake County school board action.
"In an increasingly diverse society like ours, racial isolation is not a positive outcome for children of any color or background," wrote Duncan. "School is where children learn to appreciate, respect and collaborate with people different from themselves. I respectfully urge school boards across America to fully consider the consequences before taking such action. This is no time to go backward."