A Canadian fertility clinic doesn't want to create "rainbow families," so it refuses to match clients with donors of different ethnicities, claiming that children should be able to easily identify their "ethnic roots."
A 38-year-old white woman named Catherine (she didn't want to give her last name) told the Calgary Herald that she was looking into the process of in vitro fertilization and was shocked when the Regional Fertility Program, a Calgary clinic, told her that she could only use sperm donors who were also white, in order to avoid "creating rainbow families." 
"I was absolutely floored," she told the newspaper.
Catherine believes that because of the clinic's policy, many of the same men have been chosen by different patients in the area, which was one of the reasons she cited for wanting to broaden her search to include other races.
"Frankly, it's appalling how many people have the same donors, probably because of this policy," she told the Herald. "A friend of mine just went through this process and used the donor that I would have picked."
Dr. Calvin Greene, the administrative director at the Regional Fertility Program, told the newspaper that his stance on race mixing is firm and noted that the policy has been in place since the 1980s.
G/O Media may get a commission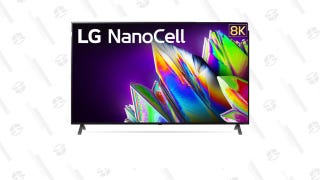 LG 75-Inch 8K TV
"I'm not sure that we should be creating rainbow families just because some single woman decides that that's what she wants," Greene told the Herald. "That's her prerogative, but that's not her prerogative in our clinic."
Greene noted that other doctors who work at the clinic also feel that "a child of an ethnic background should have the ability to be able to identify with their ethnic roots" and that a patient and her children should share a "cultural connection," the Herald reports.
Greene used Canada's Assisted Human Reproduction Act to support his argument that mixing races borders on creating "designer" babies and could potentially affect a child's well-being.
"She needs to look harder, because I can tell you, reasonable people can easily find a suitable donor," Greene told the newspaper, adding that there are many quality white donors available.
Read more at the Calgary Herald.