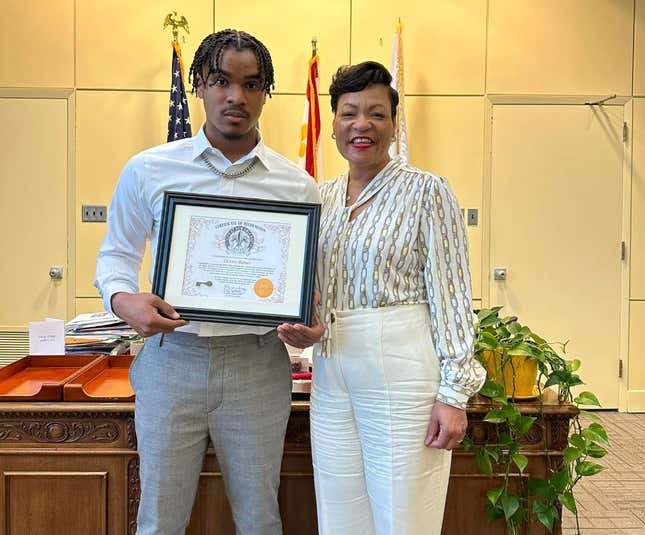 We recently told you about a high school student in Louisiana who secured a record-breaking amount of college scholarship money. Dennis "Maliq" Barnes, a senior at International High School of New Orleans, is an exceptional student who had his pick of nearly 200 colleges across the country, racking up a jaw-dropping $10 million in scholarships.

This Juneteenth We Revisit The Anderson .Paak BLM Track "Lockdown"
Now, after weeks of anticipation, Barnes has made his final choice, ultimately deciding to attend Cornell University in Ithaca, N.Y., in the fall. Barnes announced his decision during a press conference at his high school, according to reporting from CNN.
"I have committed to attend Cornell University and intend to pursue computer science and to later move on to practice software development," said Barnes, rocking a Cornell University sweatshirt for the announcement. "Today is an exciting day for me and my family, and I look forward to working with Cornell's College of Engineering over the course of my undergraduate education."
During the press conference, Barnes, who plans to pursue a dual degree in computer science and criminal justice, said Cornell was his final choice because it is the "best Ivy League for engineering." And while the campus in Ithaca, New York, is a long way from his hometown of New Orleans, he believes attending Cornell will provide him with an exceptional education and ultimately set him up for success.
"I love my city, but I do want to venture out and experience new things and see different things that I haven't seen before," he said.
Barnes, who has maintained an impressive 4.98 GPA, already has a jump start on his college education. The stellar student earned 27 college credits in the past two years while taking classes at Southern University of New Orleans. He says he hopes this new adventure will allow him to "get an understanding and different perspective of the world, have my eyes opened and my perceptions changed by the people around me for the better."