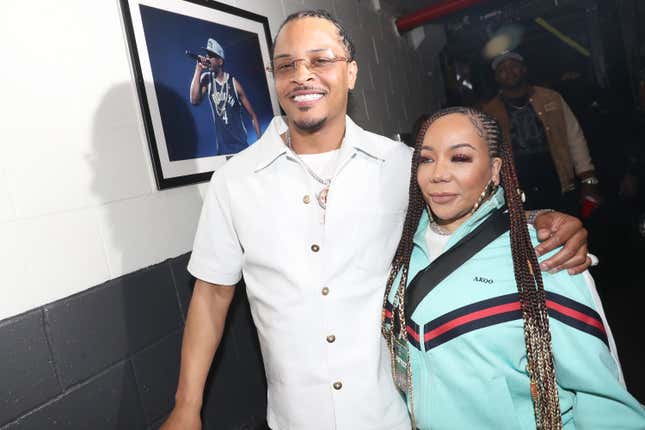 What seemed like a crazy chicken and egg court battle between rapper T.I. and his wife, singer Tameka "Tiny" Harris, versus a popular toy maker ended in a mistrial yesterday when a federal judge in Santa Ana, California, decided that testimony accusing the company of cultural appropriation would leave the jury unfairly biased.
Nat Geo's Jeff Jenkins On Facing Greatest Fears, Building A Plus Size Community & More
T.I. and Tiny were suing toymaker MGA Entertainment, accusing the company of ripping off the look and style of their former rap group, OMG Girls, to create their popular "LOL Surprise! OMG" line of dolls. But MGA clapped back, accusing T.I. and Tiny of being the real thieves, claiming they took the OMG Girls' colorful hair and clothing style from their Bratz dolls.
And they may have had a halfway decent argument. That is, until T.I. and Tiny's lawyer showed jurors a video deposition from a customer who said she stopped buying OMG dolls because she didn't want to support a company that "steals from African Americans and their ideas, profits off of it and don't give African Americans the profit."
That's when MGA's lawyers stepped in and said the testimony prejudiced the jury by "accusing MGA of racist cultural appropriation." And by using the customer's statement during the trial, T.I. and Tiny's camp were violating a pre-trial order prohibiting that kind of evidence. And on Wednesday, U.S. District Court Judge James Selna agreed to declare a mistrial.
T.I. and Tiny have not commented on the ruling as of this writing. For their part, MGA is claiming responsibility for diversifying the doll industry and holding firm that they did nothing wrong. "Diversity has always been a key value at MGA Entertainment in both our people and our toys," said Alan Hilowitz, MGA Entertainment spokesperson, in a statement after the judge's ruling came down. "In fact, MGA brought diversity to the fashion doll category more than 21 years ago with the introduction of Bratz dolls. We are disappointed that the trial was cut short but look forward to vindicating our rights in the next trial."