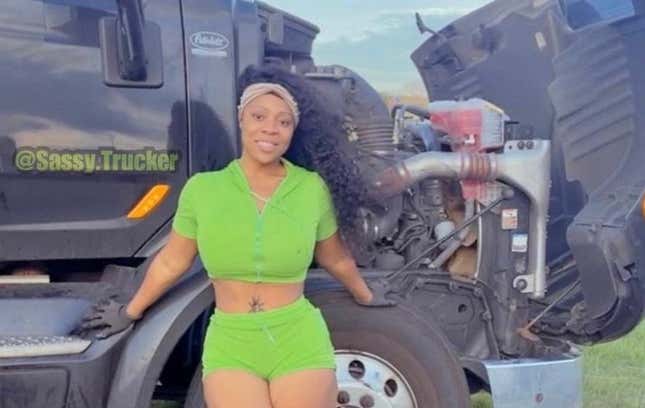 Tierra Allen, also known as "Sassy Trucker," has finally been released from detention in Dubai after almost four months of being in international jail. The situation all stemmed from Allen raising her voice which, over there, equated to a crime.
Tackling A Black Maternal Health Crisis & Embracing Reproductive Justice | The Root Institute
The CEO of Detained in Dubai, Radha Stirling, published the good news in Allen's case online, thanking the US Mission to the UAE, Congresswoman Sheila Jackson Lee and surprisingly, Senator Ted Cruz. It's unclear what all he did but he previously stated he'd contacted Allen's family and the Department of State for help, per Newsweek.
"Great News: Tierra Allen boarded a flight home to the United States today after police lifted her travel ban. She nearly didn't make it through airport immigration and thought she would be jailed but all worked out and Tierra is now relieved her nightmare has come to an end," tweeted Stirling.
She also said if it hadn't been for social media publicizing Allen's detainment, she would have faced imprisonment. Allens mother took to local news in July begging for answers after finding her daughter was stranded in the place where she was supposed to be living her best life on vacation.
Read more from CBS News:
Allen was arrested in May following a confrontation with a male employee of a car rental company in Dubai.

"She was told at the police station (Bur Dubai) that she has been accused of 'shouting,' which under the UAE's laws is illegal under 'offensive behavior,' which is an unclear and subjective regulation, but warrants up to two years in prison, a fine and deportation," Stirling told CBS News last month.

Stirling also told CBS News the employee had been trying to intimidate Allen into paying thousands of dollars she didn't owe. "Tierra is the latest American tourist to get caught up in what is a common rental car extortion scheme," Stirling said.
After Allen posted bail, she was still stranded because she was placed on a travel ban. She was also not allowed to retrieve her belongings that were stuck in the rental car, however, Stirling said Allen noted several fraudulent charges made to her credit cards.
The report says Allen paid a fee of over $1,300 to lift her travel ban and has been ordered not to come back to Dubai by UAE authorities. She boarded her plane back to AmeriKKKa Tuesday, making it through airport immigration by the skin of her teeth in fear of being jailed again, Stirling said.
The man who worked at the rental agency who ensued an argument with her has allegedly fled the country to Pakistan, per CNN.