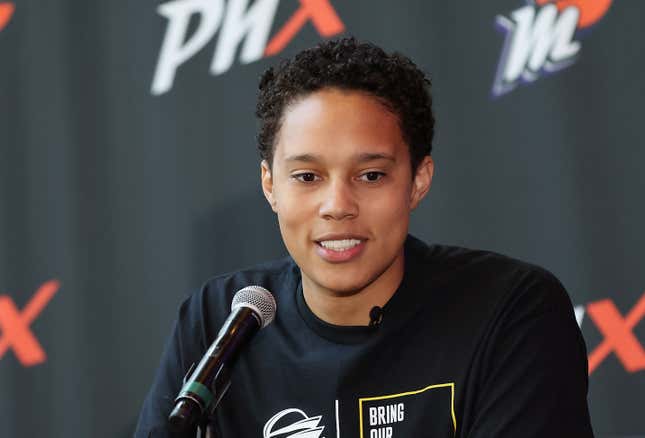 Brittney Griner is officially declaring herself ready to get back on the court. During a press conference on Thursday, the Phoenix Mercury center discussed her recovery from her 10-month wrongful detainment in Russia, her decision to return to the WNBA this season and reuniting with longtime teammate Diana Taurasi.

Disney Channel's Saturdays Is Our Black TV Pick Of The Week
The two-time Olympic gold medalist credits her work ethic with helping her get through her ordeal. She also expressed how much the campaigns advocating for her release meant to her. Though there was a delay in when she would receive information, she saw the "We Are BG" slogan and everything her fellow WNBA players did on her behalf.
"I was aware of the efforts and everything that was going on. I was able to see pictures of different things. Being aware of what was going on when you don't know anything," Griner said. "You're like, 'OK, I know people are fighting for me or bringing awareness to what's going on.' Those times where I was able to see what was going on, it definitely made me a little bit more comfortable. It made me have hope, which is a really hard thing to have. A really dangerous thing to have because when it doesn't work, it's soul-crushing."
"When I did lose my hope, looking at photos of my family brought my hope back. Being able to see their faces. That did it for me," she continued. "In a moment where you want to give up, you look at the photos and it brings you back what you're waiting on. You're waiting to be back with your family, with your loved ones in a safe place."
The eight-time All-Star is very aware that she is now the voice of Americans being held in foreign countries. This isn't something she takes lightly. She knows more eyes are on her right now, so she plans to use that attention to spread awareness for other wrongfully detained Americans.
"I'm really fortunate to have this platform that I have. Any interview that I have, you'll see the theme throughout the season," she said. "Bringing awareness to everybody that doesn't have the platform, the followers and the exposure to everyone like this. I'm trying to help out in any way that I can."
As for her return to basketball, she admits that the road back hasn't been easy. The last time she was on the court was in the 2001 WNBA Finals against the Chicago Sky. She knows it will take time, but that's not what elite-level athletes want to hear.
"As an athlete, you always want to be where you left off. I left off playoffs, Finals, Chicago, and I wanted to be that player when I started back," she said. "Everybody telling me to give myself grace and it's gonna take time, but that's the hardest thing to do to a pro athlete. We always want to be right back at our tip-top shape. So it's been a struggle, but it's liberating as well."
Though the Mercury has a very different look from when Brittney was last on the court, her longtime teammate Diana Taurasi is back for her 19th season with the team. Apparently, Griner was very concerned that she would miss her chance to once again play with her friend.
"I was worried. I thought she was going to retire on me or something while I was gone," she said. "And that honestly was killing me, knowing that was a possibility. I'm really thankful that she's still here. I look up to her. How could you not when you have a G.O.A.T. right next to you? I'm really thankful to have her another year. I'm looking forward to getting out there on the court."
Brittney Griner makes her triumphant return to the WNBA when the Mercury kicks off its season on the road against the Los Angeles Sparks, Friday, May, 19.