A 17-year-old "outspoken neo-Nazi" was charged with two counts of murder after allegedly shooting and killing his 16-year-old girlfriend's parents Friday morning after her mom convinced her to stop dating him, according to the Washington Post.

Buckley Kuhn-Fricker, 43, and her husband, Scott Fricker, 48, were killed at their home in Reston, Va., around 5 a.m. Friday, where family members had gathered to celebrate Christmas. The teen, who shot himself, was in critical condition Saturday. The Washington Post did not name the teenager, saying that the paper does not identify minors charged with crimes unless they are charged as adults.
Fairfax County, Va., police did not provide a motive for the killings, but the girlfriend's family said that it was likely tied to the parents' insistence on fighting hate.
A family member said that Kuhn-Fricker was passionate about civil rights and social justice. After looking through her daughter's phone, Kuhn-Fricker found tweets and Twitter messages posted under an assumed name that she believed were connected to the boyfriend.
Here is more on the story from the Post:
On Sunday night, Kuhn-Fricker alerted the principal of the Fairfax County private school that her daughter and the boyfriend attend, attaching numerous images of the account that had retweeted missives praising Hitler, supporting Nazi book burnings, calling for "white revolution," making derogatory comments about Jews and featuring an illustration of a man hanging from a noose beneath a slur for gay people.

In private Twitter messages, the account Kuhn-Fricker attributed to the boyfriend responded to a photo of a candy shop that featured a display of a dreidel by writing, "ima run in there with my swastika armband right now."
G/O Media may get a commission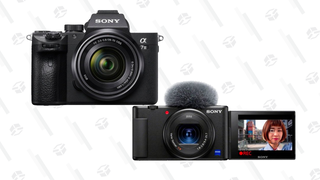 Cyber Monday Deals
Sony Camera Sale
The family organized an intervention for the daughter in Washington, D.C., to convince her to leave the boyfriend.
Read more at the Washington Post.