The North Carolina chapter of the NAACP is suing North Carolina over an alleged voter purge that it claims disproportionately affected African Americans, Talking Points Memo reports.
Apparently, 4,500 voters had their voter registrations challenged by a few individuals. The North Carolina NAACP has accused state and local officials of a violation of the National Voter Registration Act and the federal Voting Rights Act.
"The NAACP is defending rights of all North Carolinians to participate in this election," said North Carolina NAACP President the Rev. William Barber II. "We're taking this emergency step to make sure not a single voter's voice is unlawfully taken away. This is our Selma, and we will not back down and allow this suppression to continue."
According to Talking Points Memo, hundreds of black voters were challenged in multiple counties, many based on a mailing campaign leading to undeliverable mailers.
When voters are challenged, they are typically supposed to be notified; however, in this situation, many of the challenged voters said that they never received such a notification.
G/O Media may get a commission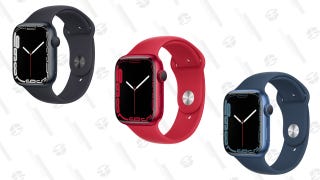 Up To $45 Off
Apple Watch Series 7
The state responded to the North Carolina NAACP's accusations by stating that it was acting in accordance with federal law.
Talking Points Memo reports that the North Carolina NAACP wants a court to halt the removal process, to restore the registrations of those highlighted in the lawsuit and also to see to it that the affected voters do not face any same-day challenges to their registrations at polling places on Election Day.
Read more at Talking Points Memo.