Ex-Host Gives Work and 'Party Clothes' to Charity
NBC News has responded to criticism of the exit of "Today" co-anchor Tamron Hall by indicating that it would accept an offer by the National Association of Black Journalists to discuss the issue.

"NBC News has a long and proven history as an industry leader in newsroom diversity," the network said in a statement Thursday. "We will continue to engage in the running dialogue we've had for many years with the National Association of Black Journalists and other advocacy groups to advance those goals."
Meanwhile, Hall "took to social media on Thursday to thank her fans and followers for their support — a day after it was announced that she will be leaving NBC News and MSNBC when her contract expires this month — and encouraged them to follow in her footsteps by donating to organizations and non-profits that are in need," Natalie Stone reported for People magazine.
" 'Okay, what have I been doing all day today? First of all, thank you guys so much for all your sweet social media messages. It's meant so much to me,' Hall, 46, said in a home video posted to Twitter.
G/O Media may get a commission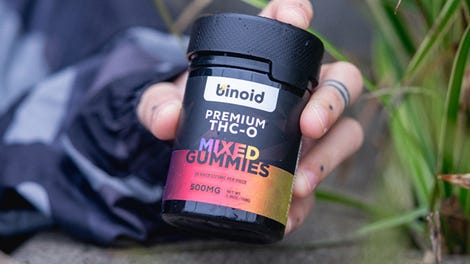 25% Off + Free Shipping
Binoid THC-O Gummies
" 'These are good times for everybody and good times for one of my favorite organizations: Housing Works. So this is what I've been doing all day. I have Jimmy [Choo], Christian Louboutin, I've got work clothes, I've got party clothes. I have packed up a mother [lode] headed to Housing Works to donate all of these things,' said Hall, and added, 'Hopefully you will support them. They're an amazing organization. And look — you get a whole lot of my stuff. See you soon! Bye.' . . ."
In a statement Wednesday after NBC announced that Hall, the first black woman to co-host "Today," is leaving NBC and MSNBC, NABJ said in a statement, "NBC has been a leader for diversity in broadcasting, but recent reports that Hall and [Al] Roker will be replaced by former Fox News anchor Megyn Kelly are being seen by industry professionals as whitewashing. . . ." It asked for a meeting with NBC.
The network sought to replace Hall and co-host Roker, also a black journalist, on the "Today" show's third hour at 9 a.m. ET.
NBC plans to make room for Kelly, although it has not decided whether Kelly or 10 a.m. ET hosts Kathie Lee Gifford and Hoda Kotb would take over the third "Today" hour.
Lloyd Grove of the Daily Beast reported Wednesday that Hall "turned down a multimillion-dollar offer to stay, according to a person familiar with the situation, including a significant role on the first two hours of Today, the weekend Nightly News anchor chair, an expanded role on Dateline NBC — essentially Lester Holt's portfolio before he was named Nightly's weekday anchor — and the opportunity to continue hosting her MSNBC show. . . ."
Roker took a moment on Thursday's show to address Hall's departure, Dani Levy reported for Variety.
" 'As some of you may have heard by now, our good friend Tamron Hall has decided to leave NBC News,' Roker said, sitting behind the desk alongside weekend co-host and correspondent Sheinelle Jones and actor Dean Cain.
" 'Personally, Tamron has been not just a co-host here on "Today's Take" for the past three years but a good friend — and not just to me, to all of us here,' he added. 'We want to wish her nothing but the best, much continued success and cannot wait to see what her next chapter is.'
"Jones agreed, commenting, 'She's going to rock it, no matter what she does.' . . ."
Whitney Gaspard, Essence: Tamron Hall's Departure Is The Latest Example Of NBC's Volatile Relationship With Black Women
Helen Ubiñas, Philadelphia Daily News: Temple's own Tamron Hall a casualty of Trump-era diversity
John Whitehouse, Media Matters for America: Here Is How NBC News Is Catering To Trump's Presidency
Ban Could Have Big Implications for Journalists
The executive order that President Trump issued last week placing a 90-day ban on visa holders from seven predominantly Muslim countries entering the United States — delayed temporarily on Friday by a federal judge — could have large and far-reaching implications for journalists, Shelley Hepworth wrote Friday for Columbia Journalism Review.
Writing before the court-ordered delay, Hepworth said, "Beyond the immediate impact on journalists whose travel is now restricted . . . In the worst case scenario, reciprocal bans could prevent journalists from traveling to places where important events are unfolding that affect America's national security.
"Reporters covering the ban could be discouraged from writing about it due to harassment. And sources could be discouraged from talking about how the ban affects them for fear of reprisals. In short, stories that need to be told may not be.
"Tim Arango, Baghdad bureau chief for The New York Times, has spent several years in Iraq. In a story published Monday in the Times, Arango wrote about the sense of betrayal felt by many Iraqis, some of America's most important allies in the fight against ISIS, and reported that the Iraqi parliament was calling for their government to respond by banning US citizens.
"Arango says it's unlikely the Iraqi measure will pass, but 'if the Iraqis do ban US citizens for a time, then it will make it very difficult to cover the country at a time when the battle against ISIS is reaching a critical stage, and when the American military may become more deeply involved,' he tells CJR via email. . . ."
Friday's court ruling came "after Washington state and Minnesota urged a nationwide hold on the executive order that has launched legal battles across the country," Martha Bellisle reported for the Associated Press.
"U.S. District Judge James Robart in Seattle ruled against government lawyers' claims that the states did not have the standing to challenge Trump's order and said they showed their case was likely to succeed.
" 'The state has met its burden in demonstrating immediate and irreparable injury,' Robart said. . . ."
Jennifer Agiesta, CNN: CNN/ORC poll: Majority oppose Trump's travel ban
Rekha Basu, Des Moines Register: I chose to be American for its now endangered values
Paul Carrel, Reuters: German magazine sparks furor with image of Trump beheading Statue of Liberty (Feb. 4)
Alejandro Danois, Shadow League: The Sports World Is Not Feeling Trump's Immigration Ban
Sarah Dutton, Jennifer De Pinto, Fred Backus, Kabir Khanna and Anthony Salvanto, CBS News: Americans sharply divided along partisan lines over travel ban, Trump: CBS News poll
Jorge Encinas, NPR "Code Switch": There's A Long, Ignominious Trail Of Bans, Registries And Forced Relocation
Sam Fulwood III, Center for American Progress: Trump's Muslim Ban Underscores the Need for National Resistance
Emil Guillermo, Asian American Legal Defense and Education Fund: In a Trump era, Fred Korematsu matters more today than ever
Stephen Henderson, Detroit Free Press: Donald Trump's first-week actions are about cowardly backlash
Gianluca Mezzofiore, Mashable: A Syrian journalist's ordeal after Trump's travel ban
Ruben Navarrette Jr., Washington Post Writers Group: Why Mexicans don't want the wall
Clarence Page, Chicago Tribune: How a 'chaos candidate' becomes a disaster president
Fabiola Santiago, Miami Herald: Caving in to Trump, Miami-Dade Mayor Carlos Gimenez sells out this city of immigrants
Elliot Mincberg, senior fellow at People For the American Way, talks with Bill Press about Supreme Court nominee Neil Gorsuch. Mincberg says that "one of the key problems with Gorsuch" is that he "is one of the best friends Wall Street could have." (Credit: youtube.com)
Reporters Group OK With Gorsuch; Black Bar Isn't
"U.S. Supreme Court nominee Neil Gorsuch does not have an extensive history of cases involving free speech, free press, and freedom of information issues, but the opinions he authored or joined during his more than 10 years on the Tenth Circuit that do touch upon those issues reflect the application of well-established First Amendment principles in a consistent way, according to an report on his news-media related decisions released today by the Reporters Committee for Freedom of the Press," the Committee said on Thursday.
"His decisions in libel and invasion of privacy cases show a willingness to uphold protections for speech rights against tort claims even in controversial cases, such as when a television station publicized the names of undercover police officers in a story involving accusations of sexual assault, or when another television station showed a photo of the perpetrator in a sexual assault video. . . . "
Meanwhile, the National Bar Association, which describes itself as "the nation's oldest and largest network of 60,000 predominately African American lawyers, judges, law professors and law students, said Friday that it was "deeply disturbed" by the nomination.
"Judge Gorsuch has minimized the critical role courts have played in ensuring equality and the enforcement of constitutional values," the association said in a statement.
"Judge Gorsuch has criticized those who have brought constitutional challenges in the courts and holds a restrictive view on the issuance of rules and regulation to promote government policies on behalf of people of color, women, consumers and workers. Furthermore, Judge Gorsuch's opposition to class action lawsuits, a mainstay particularly for employment discrimination suits, is equally troubling especially for attorneys of color seeking to eliminate broad policies of discrimination. . . ."
Julie Alderman, Media Matters for America: What The Media Ignore When They Call Gorsuch "Mainstream"
Charles M. Blow, New York Times: Fruit of a Poison Tree
Lynsey Chutel, Quartz Africa: Trump's Supreme Court pick had some worrying views on diversity and apartheid
Editorial, Detroit Free Press: Neil Gorsuch, a shrewd choice for a stolen Supreme Court seat
Reporters Committee for Freedom of the Press: Special report on Supreme Court nominee Neil Gorsuch
Eugene Robinson, Washington Post: Fighting Gorsuch is hopeless. Democrats should do it anyway.
Native Journalist Arrested Covering Dakota Pipeline
Jenni Monet, a Native American journalist covering the Dakota Access Pipeline dispute near Standing Rock Sioux Tribe land in North Dakota, was arrested Thursday while on assignment for the Indian Country Media Network and was subsequently released, according to the network.
"Ms. Monet, on assignment for ICMN, was apparently swept up in a large police action that resulted in the arrest of approximately 76 people," the network said on Thursday. "Her last text message, sent to fellow journalist Mark Trahant, University of North Dakota's Charles R. Johnson Endowed Professor of Journalism, stated that she feared that she was in danger of arrest due to an impending raid and was 'trapped.' "
The network published an article by Monet on Friday with a notation that she had been released on bail but still faced charges.
Monet wrote that Amy Goodman, host of radio and television's "Democracy Now!" "was charged in September with the same allegations I now face — criminal trespassing and rioting" but that the charges were dissolved.
"I'm hopeful my case will be handled in a similar manner, not only for my own well-being but also for the integrity of North Dakota," Monet wrote.
Associated Press: Army Corps to close land where protesters camped
Theresa Braine, Indian Country Media Network: Last Child DAPL Camp Raided; ICMN Journalist Jenni Monet Arrested
Caroline Grueskin, Bismarck (N.D.) Tribune: Standing Rock disavows camp on private land
Kimberly Wynn, Bismarck (N.D.) Tribune: Federal government moves to close protest camps
When Ida B. Wells Married, It Was a Page One Story
"It looked rather unremarkable, just one short paragraph tucked at the bottom of Page 1 with the headline 'Ida Wells Married,' " Nikole Hannah-Jones wrote Jan. 23 for the New York Times. "Yet the wedding announcement, published in The New York Times in 1895, was anything but unremarkable. That the nuptials of a black woman, born into slavery 33 years earlier, could make the front page of The Times, speaks to a woman who was, by definition, remarkable.
"By the time Ms. Wells married Ferdinand L. Barnett in Chicago, she had risen from being orphaned as a child to one of the most forceful voices against the lynchings of black Americans. A muckraking journalist, she investigated the true motivation behind a vicious lynching in Memphis — a white businessman's retaliation against a successful black store.
"In 1892, she was run out of the city, after she wrote about her discovery that white mobs often murdered black men under accusations of rape to cover up consensual sex between white women and black men. . . ."
Separately, Raisa Habersham profiled Wells Friday in the Atlanta Journal-Constitution. An editor's note said, "Throughout February, we'll spotlight a different African-American pioneer in the daily Living section Monday through Thursday and Saturday. . . ."
Black Voices Honors Media Figures in Feb. Series
"This February, HuffPost Black Voices is honoring black men and women who are paving the way to a better future for black America," editors wrote Wednesday over a story by Zeba Blay. "We are highlighting the work of deserving individuals who are striving to make the world a more inclusive place across their respective fields.
"To kick off the series, we're honoring seven black men and women in the media and activism world who are using their voices to enact change. We hope you admire their work and join us as we celebrate their accomplishments: . . .
"Joy-Ann Reid | MSNBC Correspondent . . .
"Van Jones | CNN Commentator . . .
"Tamika Mallory | Civil Rights Activist and Organizer . . .
"Dante Barry | Executive Director of 'Million Hoodies' . . .
"Elaine Welteroth | Editor of Teen Vogue . . .
"Yaa Gyasi | Novelist . . .
"Damon Young | Editor of Very Smart Brothas . . ."
Charles Thomas Retiring After 25+ Years at WLS-TV
"Charles Thomas, the veteran broadcast journalist and ace political reporter, is retiring after more than 25 years at WLS-Channel 7, the ABC-owned station announced Thursday," Robert Feder reported for his Chicago-based blog on television news.
"Following the February rating sweep, his last day at ABC 7 will be March 3. Thomas, 65, told colleagues his plans include launching a digital platform focusing on issues in the African-American community.
" 'Having served as ABC 7's political reporter for the past eight years, I have had a front row to history,' Thomas said in a statement.
" 'I cannot adequately describe how blessed I feel to work at the No. 1 television station in this city, with the best management team and co-workers in Chicago. Without a moment's hesitation, I can look back and say I had the best TV reporting job in America.' . . ."
Breitbart Editor Offers White-Men-Only Scholarship
"Breitbart editor and occasional person you see on TV, Milo Yiannopoulos, has officially opened up a college scholarship exclusively for young white men," AJ Willingham reported Thursday for CNN.
"According to the scholarship's website, The Privilege Grant 'is available exclusively to white men' who want to pursue college 'on equal footing with their female, queer and ethnic minority classmates.'
"Applications for the grant opened on January 31st, and each grant is in the amount of $2,500. . . ."
Willingham also wrote, "In related news, Yiannopoulos had to cancel the UC Berkeley stop of his "Dangerous [F———t]" speaking tour when protests at the university turned violent. Reports from the university blamed '150 masked agitators' who disturbed an otherwise peaceful demonstration from students angry at Yiannopoulous' messages. . ."
President Trump's reaction to the protests was to suggest he'd pull federal funds for blocking free speech, Jon Schuppe reported Friday for NBC News.
"The president's threat appears unprecedented, and raises questions about how — or if — he could follow through with it. . . ." Columnist David Andreatta of the Democrat and Chronicle in Rochester, N.Y., visits Frederick Douglass to ask him about his doing what President Trump described as "an amazing job." Douglass is buried in Rochester's Mount Hope Cemetery. (Credit: youtube.com)
Trump Exposing Media's Ideological Differences
"During his first 11 days in office, President Trump has provided news outlets with plenty of material, at all hours of the morning and night," Sydney Ember reported Tuesday for the New York Times. "But his maelstrom of activity — the bold executive orders, the fiery Twitter posts, the brazen speeches — has also exposed, and perhaps exacerbated, ideological differences.
"For those devouring news about the administration, the choice of narratives has become starker, with brighter lines drawn around the content. For the readers and viewers, it's follow the narrative of your choice, and be wary of the great chasm between.
"Over the weekend, as protesters descended on airports across the country in response to Mr. Trump's immigration ban, fissures began to emerge even among right-wing news organizations. On Monday, the divide only widened. And not everyone behaved predictably. . . ."
Robert Benz, Huffington Post: More And More About Frederick Douglass
Lauren Victoria Burke, National Newspaper Publishers Association: It's Time for the Democratic Party to Wake Up
Dylan Byers, CNN Money: Trump aides hold 'Kumbaya meeting' with reporters
Johnnie Carson, African Arguments: Trump's Africa policy: Unclear and uncertain
Pamela K. Johnson, NBCBLK: Frederick Douglass Was the Most Photographed American of the 19th Century
Shaun King, Daily News, New York: Donald Trump just got people needlessly killed in military raid
Mary Mitchell, Chicago Sun-Times: Gangs offering lives for social programs?
Tony Norman, Pittsburgh Post-Gazette: Frederick Douglass, now more than ever
Andrés Oppenheimer, Miami Herald: Trump's attacks on the media will erode independent thinking
Leonard Pitts Jr., Miami Herald: Stop taking boxing gloves to a knife fight, liberals
Sarah Posner, the Nation: Leaked Draft of Trump's Religious Freedom Order Reveals Sweeping Plans to Legalize Discrimination
Matthew Rozsa, Salon: Donald Trump's watching a lot of television, and it's worrying his aides: reports (Jan. 24)
Mary Sanchez, Kansas City Star: Progressives could learn a thing or two from the tea party
Pete Vernon, Columbia Journalism Review: Adjusting for Trump: where newsrooms fall on the spectrum
Short Takes
"Venezuela is riding its own wave of the fake news phenomenon," Alex Vasquez S. reported Thursday for Fox News. "Insisting in its lack of accuracy, President Nicolas Maduro not only has banned the airing of a Sony Pictures miniseries about the life of late President Hugo Chavez – he has ordered the production of an alternate version of the socialist leader's rise to power. . . "
"Jessica Yu announced late last year that she was taking a buyout at The Wall Street Journal," Katie Hawkins-Gaar reported Thursday for the Poynter Institute. "Yu, 36, is leaving her position as Global Head of Visuals and headed to the West Coast to figure out what's next. . . ." She "mused on her career transition and lessons learned at the Journal. . . ."
"The owner of the Empire State Building has filed a lawsuit against the Pacifica Foundation, alleging that the radio network owes $1.35 million in rent and fees for the tower of its New York City station, WBAI . . .," Tyler Falk reported Thursday for current.org.
"The Board of Regents for higher education has designated Stan Simpson to fill the Robert C. Vance Endowed Chair in Journalism and Mass Communications" at Central Connecticut State University, Lorenzo Burgio reported Thursday for the Bristol (Conn.) Press. He also wrote, "Simpson is best known for his morning show on Fox 61, 'The Stan Simpson Show,' that offered interviews on a variety of topics and his weekly columns for the Hartford Courant related to urban-issues. . . ."

"We are excited to share the news that long-time acclaimed journalist Issac J. Bailey will be joining the Observer editorial board on an interim basis," the Charlotte Observer reported Thursday. "Bailey was a reporter, editor and columnist for the Sun-News in Myrtle Beach for 18 years. A 1995 graduate of Davidson College, he was a Nieman Fellow at Harvard University in 2014 and has been published by several national outlets, including Politico.com, CNN.com and Esquire.com. . . ."
C-SPAN3, the American History Channel, discusses "The Civil War: Abraham Lincoln & Immigration" on Saturday at 6 p.m. ET. "Author and historian Harold Holzer talks about Abraham Lincoln's views on immigration policy and immigrant groups in America. He describes Lincoln's efforts to court the German-American vote early in his career and the importance of ethnic units in the Union Army during the Civil War. This talk was part of the annual Lincoln Forum Symposium."
On Saturday at 8 p.m. and midnight ET, C-SPAN3, the American History Channel, discusses "World War II and Civil Rights." "Rhodes College professor Charles McKinney teaches a class about early civil rights efforts during the World War II era. He describes movements to end segregation and court cases challenging 'separate but equal' schools."
"NBC Nightly News anchor Lester Holt appears to have a young fan out in Portland, Oregon," A.J. Katz reported Friday for TVNewser. "Drew Carney, a reporter for NBC's Portland affiliate KGW-TV Channel 8, encountered a young boy named Jaden at the Portland airport who was traveling with his family to Disneyland. The two struck up a conversation. 'I don't really see you on TV that much,' the 7-year-old said to the reporter. Carney then asked if he had ever seen his KGW-TV colleague Rod Hill, but the boy, out of the blue, said: 'No, but Lester Holt….I usually see him more on the news than you.' The boy then walked away. Carney shouted: 'Sir, you know I can probably connect you to Lester Holt.' . . . Holt acknowledged the encounter in the form of a tweet. . . ."
"We need this now more than ever! Sixty bucks = $5/month. Small price to pay for this vital service. Support Richard's efforts, please."
— Tony Marcano, veteran reporter, editor and radio producer now doing media relations in Los Angeles.
Support Journal-isms Go Fund Me page
Richard Prince's Journal-isms originates from Washington. It began in print before most of us knew what the internet was, and it would like to be referred to as a "column." Any views expressed in the column are those of the person or organization quoted and not those of any other entity.
Send tips, comments and concerns to Richard Prince at journal-isms-owner@yahoogroups.com.

Follow Richard Prince on Twitter.
Like "Richard Prince's Journal-isms" on Facebook.
Journal-isms is originally published on journal-isms.com. Reprinted on The Root by permission.