An 11-year-old whose family was upset with his alleged thuggish behavior and possible gang involvement decided to teach him a lesson that included a videotaped whipping that was posted on Facebook. That lesson has led to three people being charged with assault, CBS Detroit reports. 
Demitria Latrion Powell, the child's 28-year-old mother, Uteas Michelle Taylor, the boy's 42-year-old godmother, and Stefon Tirrell Felton, the godmother's 40-year-old boyfriend, have been slapped with charges including conspiracy to commit third-degree child abuse, third-degree child abuse and third-degree child abuse committed in the presence of another child, the news station reports.
Police were alerted to the incident, which occurred April 3 at a home in Flint Michigan, when several people who saw the video online became concerned about the boy's welfare.

In the video, which runs almost six minutes, the boy is forced to hold the handles of a dining room chair while he is struck on the buttocks and legs nearly five dozen times with a belt.
The video reportedly shows the boy's godmother repeatedly whipping the boy with a belt. The boy's mother chastises him for acting up, and Felton, whose face is never shown in the video, was reportedly behind the camera, CBS Detroit reports.
"Throughout the beating, the adults admonished the child for his behavior and warnings were given that he not get involved with gang activity," according to a statement released by the Genesee County Prosecutor's Office, the news station reported. "Near the end of the video, the child was in obvious pain and he was squirming while being struck and still forced to hold onto the arms of the chair."
G/O Media may get a commission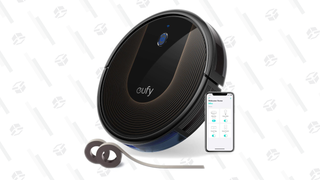 48% Off
Eufy BoostIQ RoboVac
Police told the news station that an infant was in the room throughout the incident and was in clear view of the beating.
"The adults in this case clearly went beyond what is a reasonable level of parental discipline," prosecutor David Leyton told the news station. "What the video in this case reveals is a group of adults whose actions were a criminal assault against a child, and that behavior cannot be condoned nor allowed under the law."
According to CBS Detroit, the Flint Police Department is asking that people stop sharing the video.
Police told CBS Detroit that they are still investigating the incident and will seek charges against others if they are found to have aided in the abuse.
Read more at CBS Detroit.