Two Arizona mothers live-streamed themselves inside a Tempe, Ariz., mosque yelling Islamophobic statements in front of their children, according to CNN.
In the March 4 Facebook Live video, Tahnee Gonzales and Elizabeth Dauenhauer are inside the Islamic Community Center of Tempe claiming to expose "Shariah law in America" and "the illegal invasion of Muslims." They are also seen encouraging their dog to urinate inside the mosque.
Some of their hate-filled rhetoric during the 24-minute video includes, "The Muslims are nothing but devil, Satan worshippers,"and mocking Muslims as child molesters and dog eaters, according to the Arizona Republic. One of the kids, following her mother's example, says, "They smell like goat."
"Exactly! They smell like goat," Gonzales responds.
More specifically, Gonzales says, "Stay away from our dogs, please. Don't eat them," while holding the camera.
G/O Media may get a commission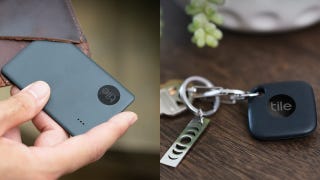 Up to 35% off
Tile Item Trackers
I think you get the point. True gems, these ladies are. Fine parenting.
They were also seen taking educational pamphlets and other items out of the mosque. After the video went viral, Gonzalez and Dauenhauer were charged on Thursday with third-degree burglary, a felony.

"Based on the details of the crime, an enhancement of hate crime will be considered for sentencing," Tempe Police Department spokeswoman Lily Duran told CNN in a statement. "Pamphlets and literature from the mosque were stolen."
The two women were released Friday.
A representative from the community center said that the items Gonzalez and Dauenhauer took were for members only. "It was really disturbing to see how ignorant some people can be," Imam Ahmad Al-Akoum told the Arizona Republic.
That, folks, is a severe understatement.