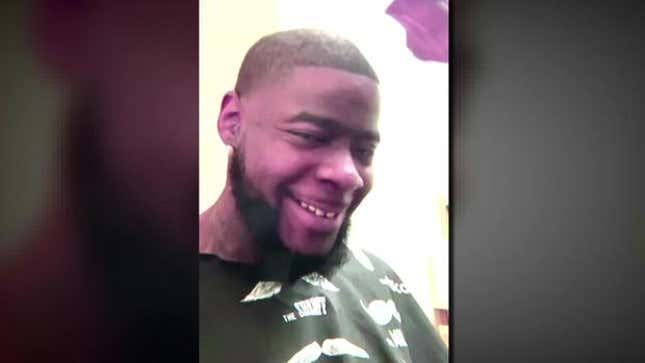 The family of Rickey Cobb II wants justice in his shooting death by the hands of Minnesota state troopers. Cobb was shot inside his car while attempting to flee a traffic stop Monday night. Cobb's family and local advocates believe the use of deadly force was unnecessary.
Courtney B. Vance in Heist 88 Is Our Black TV Pick of the Week
Body camera and dash camera footage from July 31 show four state troopers discussing the probable cause to pull Cobb over for. They said he violated a domestic abuse order for protection from an incident a few days prior which led them to pursue an arrest. In the video, the troopers are seen approaching Cobb's vehicle on either side and ordering him to step out of the car. Both of Cobb's hands were raised as he asked the troopers what warranted the traffic stop.
Cobb's front car doors were opened while one of the troopers tried to pull him out and the officer on the passenger side yelled, "Get out of the car now!" Seconds later, Cobb struggled out of the officer's grip and shifted the gear into drive. Two shots are fired inside the car from a trooper's firearm as the vehicle moved forward.
By the time the troopers caught back up with Cobb, his car was pulled over in the left lane and he was unresponsive. Authorities say he died on the scene. Now, his family has gathered the community together in a call for justice in what the medical examiner's office ruled a homicide.
Read more from CBS News:
Black Lives Matter Twin Cities, The Racial Justice Network, Black Lives Matter Minnesota and Cobb's relatives gathered at the government center to demand that Democratic Gov. Tim Walz fire the state troopers who were involved in Cobb's death and that Hennepin County Attorney Mary Moriarty charge the officers in the case and issue a warrant for their arrests.

"The circumstances simply did not require the use of deadly force. Those officers acted recklessly and they must be held accountable," Nekima Levy Armstrong, a civil rights attorney and founder of the Racial Justice Network, said in the statement.

Cobb's mother, Nyra Fields-Miller, described the pain she has endured after her son's death.

"I'm exhausted. My heart is heavy every day for the last three days. Waking up, I have migraines. And I'm hurt," Fields-Miller said. "I would like those officers to man up."
Cobb's family hasn't filed a lawsuit in the case (yet) but demand the officers involved be terminated. Upon the pending investigation, the officers have been put on administrative leave, per CBS.