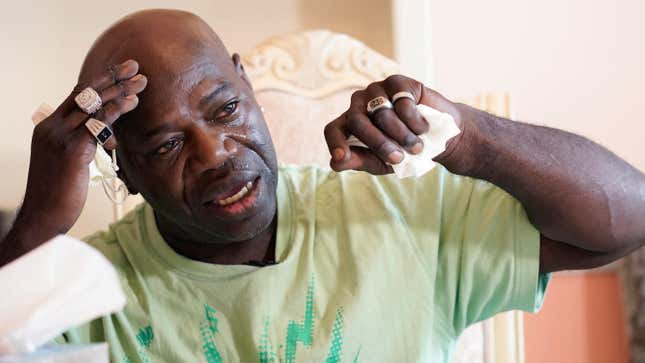 Do y'all remember Jacob Brown? If not, let me give you a refresher. He was a former Louisiana state trooper until he was recorded beating a Black man with a flashlight.
Comedian London Hughes Talks New Book, Parents Watching Her Very Sexual Comedy, & Beyoncé
In May 2019, Aaron Bowman was pulled over for a traffic violation and forcibly removed from his vehicle by other state troopers. Brown showed up later because "he was in the area and was trying to get involved," according to the Associated Press.
When he arrived, Brown claimed that he saw Bowman hitting an officer, which led him to strike the Black motorist more than 18 times in less than 24 seconds, claiming that the act was a form of "pain tolerance" to get Bowman in handcuffs.
Bowman has denied hitting any officers involved in his arrest.
As a result, Brown was indicted by a grand jury for a civil rights violation and was charged with one count of deprivation of rights under color of law.
But nearly two years after he was indicted, a federal jury found the former Louisiana  trooper not guilty of depriving Bowman of his civil rights, despite the act being caught on camera and leaving the Black man with a broken jaw and broken ribs, according to the AP.
If convicted, he would've faced up to 10 years in prison.
More from the Associated Press:
Brown's defense attorney, Scott Wolleson, told The Associated Press he was grateful for the verdict. "The men and women of the jury recognized the risks law enforcement officers like Jacob Brown face on our behalf every day," he said.

Bowman's attorney, Ron Haley, said the acquittal "shows it's incredibly hard to prove a civil rights violation in federal court." He added that the attack had "fundamentally changed" Bowman's life.

"He was low-hanging fruit for Jacob Brown," Haley said.
While the verdict was disappointing for Bowman, the courts aren't done with police in the state of Louisiana. The U.S. Justice Department opened a civil rights probe into the Louisiana State Police following an investigation into the agency by the Associated Press that found a concerning pattern of officers using excessive force against citizens, most notably Black people.
So even though Bowman won't get the type of justice he wants, hopefully, it can lead to another victim in Louisiana getting what he couldn't.