After two years in the top editorial job at the nation's largest English-language magazine targeting Hispanics, Mimi Valdés is out in a shakeup at Latina.
The former editor of Vibe magazine "had tried to take the Hispanic-aimed magazine more upscale, featuring more fashion, beauty and luxury products in the pages," Lucia Moses wrote in Mediaweek.
"Latina publisher Lauren Michaels and Galina Espinoza (who was a senior editor at People) were named co-presidents. Michaels will continue to serve as publisher, and Espinoza will take over Valdés' role as editorial director," Moses reported on Friday.
"As a Latina reader, I remember how she made the controversial move to place Jessica 'Don't Call Me Latina' Alba on the magazine's cover," Alex Alvarez wrote Monday for the Fishbowl NY media blog.
However, in a tough climate for magazines, both Latina's circulation and advertising pages had declined.
Valdés could not be reached for comment, but her Facebook page notes that in January she became co-founder of K!dult, a teen-targeted Web site from Pharrell Williams, the hip-hop recording artist, producer, musician and fashion designer. The official announcement said she was leaving "to pursue new opportunities."
G/O Media may get a commission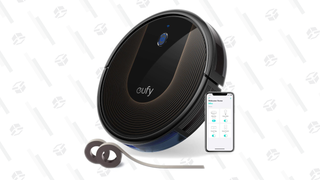 48% Off
Eufy BoostIQ RoboVac
Espinoza was deputy editor of Latina from 2003 to 2005 before leaving to become senior editor of People "and oversaw special issues, introduced new sections and took a role in the magazine's digital presence. In addition, she served as a spokesperson, appearing frequently on programs including the 'Today' show, 'Larry King Live' and 'Access Hollywood,'" the announcement said.
When she was hired as Latina editor-in-chief in 2007, Valdés became "part of a new team charged with turning around Latina parent Latina Media Ventures, which is owned by private equity firm Solera Capital LLC. Last spring, Solera hired former Viacom Digital Media Group exec Peter Glusker as CEO and Hearst Magazines vet Cindy Lewis as president," Moses wrote at the time.
Lewis departed late last year. She had wanted to "to help Latina grow its share of spending by cosmetics companies and give it entrée to high-end fashion advertisers," Moses reported.
Valdés presided over a launch of the Latina website and a redesign of the magazine.
The first issue under the redesign featured a piece on Alba, which Valdes wrote herself.
"I think we're the most excited about the Jessica Alba article, and I think it's because we were able to raise all of these issues about identity and what that means to be a Latina," she told Michel Martin in February 2008 on National Public Radio's "Tell Me More."
"You know, everyone has these sort of — a lot of times, people want to have a checklist of what that exactly means, and for someone like Jessica Alba, who is an A-list star, to really sort of speak so candidly about all of her issues growing up with a Mexican father, with a white mom and what that meant, and just all those things and all those struggles, I think, is just so much the story of most of our readers. And to have an A-list star talk about this I just think was really great just to sort of — just to start the discussion and continue it, because on our Web site especially, we've been getting so many — so many people just going onto those message boards and really happy that she spoke about it and she finally sort of cleared up all the rumors about what she thinks about her heritage."
As a former Vibe editor, Valdes loved hip-hop. "I'm Cuban and Puerto Rican, and I grew up in New York City," she said in an interview with Glamor magazine. "I've had crushes on every type of guy, but I've mostly dated African American or Latino men. That has a lot to do with hip-hop, because I had to be with someone who loved it as much as I did, and most of the men who did were Latino or African American. I'm married now to a black man," she said.
Circulation figures reported to the Audit Bureau of Circulations for the last six months of 2009 showed Latina trailing the Spanish-language People en Español, whose ciculation of 571,084 represented an increase of 3.4 percent. Latina's 508,002 was a decrease of 3.5 percent. A third publication, the Spanish-language Siempre Mujer, showed the greatest gain among Hispanic magazines, up 11.8 percent to 458,873.
Ad dollars for People en Español slid by 22.6 percent and Latina's by 30 percent, the Publishers Information Bureau reported in January.
"There's been some recovery this year, however; through May, pages are up 17 percent to 211," Moses wrote.
Edward Lewis, the cofounder of Essence magazine who chairs the board of Latina Media Ventures, said of his new editorial director:
"Galina is a first-class talent with a passion for Latina's business and mission. . . . She is the embodiment of the community we serve. . . .  The advertising market is improving and the potential of the U.S. Hispanic market is moving from potential to clear reality."
Read the rest of Journal-isms on the Maynard Institute's Web site.