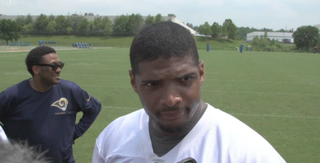 The St. Louis Rams have signed Michael Sam to an historic four-year, $2.65 million contract, the New Civil Rights Movement reports. The team announced Thursday that it had signed all 11 of its 2014 draft picks.
Sam, a former University of Missouri defensive end, became the first openly gay player drafted into the National Football League when he was picked by the Rams in seventh round. His celebratory kiss with his partner, Vito Cammisano, on ESPN stirred controversy among some critics.
He rose into the spotlight last February after he came out in a series of interviews with the New York Times and ESPN.
"Grateful, humbled, and motivated after officially signing with all of my Rams rookie brothers," Sam said in a tweet. "Let's do this!! #RamUp."
Read more at the New Civil Rights Movement.