Actress Michaela Coel—known for her appearances on the sci-fi series Black Mirror as well as for her own BAFTA-winning comedy series Chewing Gum—is the latest woman to come forward and speak out about being sexually assaulted while working in the entertainment industry.
Coel was delivering the prestigious James MacTaggart Memorial Lecture at the Edinburgh TV Festival on Wednesday when, according to the Hollywood Reporter, she began describing an incident that happened as she was working late in the London offices of the company that produces Chewing Gum.
"I had an episode due at 7 a.m. I took a break and had a drink with a good friend who was nearby," Coel said. "I emerged into consciousness typing season two, many hours later. I was lucky. I had a flashback. It turned out I'd been sexually assaulted by strangers."
In the aftermath of the incident, Coel said the producers of the show teetered "back and forth between the line of knowing what normal human empathy is and not knowing what empathy is at all."
"When there are police involved, and footage, of people carrying your sleeping writer into dangerous places, when cuts are found, when there's blood … what is your job?" the actress asked.
G/O Media may get a commission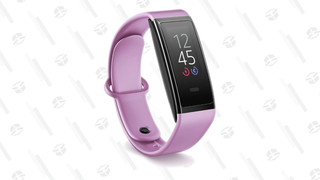 44% Off
Amazon Halo View Fitness Tracker
Coel said the production company paid for her to go to therapy at a private clinic, but when she requested that the deadline for the episode be extended—and that the reason for the extension be divulged to others working on the show—she found out the head of British Channel 4's comedy had not been told about the incident.
"Like any other experience I've found traumatic, it's been therapeutic to write about it, and actively twist a narrative of pain into one of hope, and even humor," she said. "And be able to share it with you, as part of a fictional drama on television, because I think transparency helps."
Coel made her admission on the same day it was announced that she will write and star in Jan 22nd, a BBC drama described as "fearless, frank and provocative" exploration into the issue of sexual consent. The drama will look into "the distinction between liberation and exploitation."
Worth noting—Coel is the first black person and only the fifth woman to deliver the James MacTaggart Memorial Lecture in its 43-year history. She is also the youngest to ever do it.
Brava on both counts, Michaela. Continue to speak truth to power.