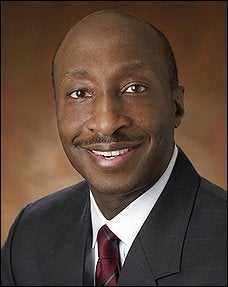 Merck, the world's second-largest pharmaceutical company, has named Kenneth C. Frazier, an African American, as its chief executive. Frazier, 55, a graduate of Harvard Law School, has been the company's general counsel and president and was expected to rise to the No. 1 job. He will succeed Richard T. Clark on Jan. 1. Clark will remain as chairman.
Frazier joined the company in 1992 and was elevated to the presidency of the global human health unit in 2007. He is the first African American selected to head a global pharmaceutical company. Pfizer is ranked the largest drug maker in the world.
Naming a lawyer rather than a scientist as the head honcho has become commonplace at the Big Pharmas, who face increasing regulation, battles over health care reform, and litigation over patents and injury claims. Frazier was credited with engineering the multibillion-dollar settlement following the Vioxx recall.
It's not going to be easy for the brother — but then, why else would he get the job? Maybe he'll compare notes with fellow Harvard Law alumn and what-did-I-step-into buddy Barack Obama. 

Read more about Frazier at the Washington Post.