Thirty years ago, "Take It Lyte" and the more popular "I Cram to Understand U" were how most hip-hop lovers were introduced to MC Lyte. By the time her album Lyte as a Rock dropped the next year, in 1988, there was no debating whether MC Lyte was a bona fide emcee. She was actually an elite one.
A year later, she told no lies when she boasted, "I'm the dopest female that you've heard thus far," on the classic "Cha Cha Cha" from her sophomore album, Eyes on This.
And almost like a hip-hop version of the Wonder Woman story, it was an island of female emcees (Sha-Rock from the pioneering Funky 4 + 1, Roxanne Shanté of "Roxanne, Roxanne" fame and the early hip-hop duo Sequence) who initially inspired her. But it was two queens in particular, Salt-N-Pepa, who showed her she could really do it, too, even though her brothers, who formed Audio Two, were also instrumental in her career.
"I was definitely a fan of Salt-N-Pepa because I knew every word to every song. They were my complete inspiration. I heard them in 1982 with a song called ['The Show Stoppa'] when I was in Queens. Somebody was playing it from their boom box, and from that day I knew that it was something I wanted to have," says Lyte, her voice filled with glee at the recollection. "I wanted to be able to use my voice in a powerful way."

And she has. She is the first solo female rapper nominated for a Grammy. From 2011 to 2013, she served as the first black female president of the Los Angeles chapter of the Recording Academy, which hands out the Grammy Awards. She has also been a music supervisor for such shows as The Michael Vick Project and Tiny & Toya. As founder of the Hip Hop Sisters Network, she has given out thousands and thousands of dollars in scholarship money. For nearly 20 years she has run Sunni Gyrl Inc., her own management company.
G/O Media may get a commission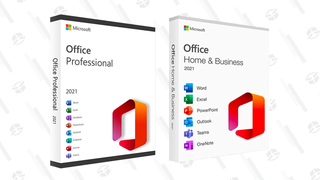 89% off
Microsoft Office Professional 2021 Lifetime License
She's represented on the small screen, too, with roles on TV series, like Half & Half, going back to the early aughts. Next month she makes her debut as the Professor on USA's highly rated drug-trafficking drama Queen of the South, which began its second season Thursday. "She is cold-blooded," she says of the role, for which she auditioned. "She was a professor and she holds many degrees, and she works alongside Devin, who is played by Jamie Hector [of The Wire and Bosch fame].

"She's a bit violent," she continues. "I'm not violent, but it's certainly an interesting character to play, and the cast is lovely and warm and amazing. I've had a really good time on the show, and I hope she lives to play again in season 3." For the new Irv Gotti BET series Tales, in which each episode is the dramatization of a rap song, she doesn't stray far from her roots.

When it comes to music, she's never forgotten where she comes from, and today she continues to record and, just as important, support other female rappers, even at a time when they are no longer the consistent fixture they once were. For Lyte, however, the absence of female emcees is deeper than it appears. In some ways, it's systemic.

"There's always been this thing in hip-hop that they allow one," Lyte explains. "They appreciate and place one at a time at the helm."

But the Brooklyn, N.Y., emcee, who has a deep Harlem allegiance, also acknowledges that women have tried to buck that tendency.

"The day I come from, Sylvia Rhone had the most female emcees signed at her label [Atlantic/EastWest], whereas other labels only had one. At one point in time, Sylvia had MC Lyte [Brooklyn], Yo-Yo [South Central L.A.], J.J. Fad [Rialto, Calif.], Champ MC [the Bronx, New York City] and Lin Que [Manhattan, New York City; formerly Isis of the pro-black rap group X-Clan]. Now, that's what I call a really great representation," Lyte says. "All of us were very different from the next. We all spoke a different slang and came from different places, and I think it was a great way of showing what female emcees could actually represent and look like and sound like."

She has also been proactive. "Not too long ago, I tried to round up all of the ladies, the legends, for us to do a television show for BET. They bought it. They bought the pilot. We shot it, and then they didn't pick up the show," she shares.

Women have also come together on record, she says, citing Lil' Kim's 1997 remix of her "Not Tonight" single, featuring Missy Elliott, Left Eye, Da Brat and Angie Martinez; and Brandy's 1994 "I Wanna Be Down" remix, featuring Lyte, Yo-Yo and Queen Latifah.

"There are countless occasions where we, as women, have had ideas of how we want to come together, but really, it takes energy, it takes effort—but most of all, it takes money," she explains.
For whatever reason, those who have raked in the dollars haven't prompted huge changes in the genre, and Lyte isn't sure why. "I certainly think that what [Lauryn Hill] did offer up in the emcee category should have prompted those to want to be better, especially contentwise. I think she came at a point where we were all longing for something deeper, and she was certainly able to satiate that ... longing for that."

As for the self-appointed queen of rap du jour, Lyte says, "Nicki [Minaj] is great at what it is that she does. She has cornered the market. She has her audience. They love her and what she does, but there are a whole lot of people that are still underserved, and it would be great for more female emcees to have that opportunity."

It's that systemic lack of opportunity that helps to keep good emcees down. "For the most part, I think there are so many female emcees, and so many more have never got their opportunity to have that real, major spotlight on them, but they exist all over the planet," she explains.
Nonetheless, there are many female rappers, new and seasoned, whom she enjoys. "I love Rapsody. I like May Day. There's a young lady out of Chicago named Iman who I can really appreciate. I like Remy Ma. You know I come from the school of cockiness, so [I'm here for] all of what Remy Ma and Missy say. Like, if you can't say you're the best, then you might as well just sit down," she explains. "So all of that braggadocio, I love."
As for her own personal hip-hop legacy, she admits that she is very solid across the board. "I don't think that so many people separate me from just being an emcee," she admits. "That might be the story of many others, but I'm consistently hearing throughout my journey how much I am respected as an emcee. I'll even have guys say, 'Naw, you're not just a female emcee; we look at you like you been able to go toe to toe with some of the best male emcees.'"

While that kind of praise is indeed flattering, she has no problem repping her sex. "I'm OK with being a female emcee," she says, "because that's who I am: I'm a woman and I speak from a woman's perspective."

Catch MC Lyte on USA's Queen of the South Thursdays at 10 p.m. ET, beginning July 27, when she makes her first appearance, or visit mclytenow.com.