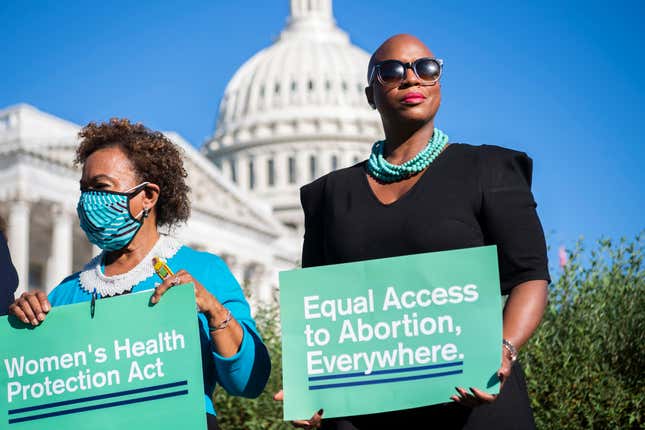 Republicans may have wrested control of the House away from Democrats in the Midterms. But that doesn't mean Black Democrats on the Hill are just bidding their time.
Your Tax Dollars Are Funding Anti-Abortion "Crisis Pregnancy Centers"
On Thursday morning, Representatives Barbara Lee (D-CA) and Ayanna Pressley (D-MA) introduced the EACH Act, which would repeal the Hyde Amendment and block states from preventing private insurers from covering abortion.
For those unfamiliar with the Hyde Amendment, it prevents federal dollars from being used to fund abortion care. And while this might not sound like a big deal, it means government insurance programs like Medicaid can't cover abortion unless states spend their own Medicaid funds (which only 16 states do).
Representative Lee, who worked in the Senate as a staffer when the Hyde Amendment was passed in 1977, told The Root that the time to end Hyde is long overdue.
"I've been trying to do this for years," says Lee. "The Hyde Amendment... is discriminatory, it's racist, and it disproportionatley impacts women of color, Black women, brown women, and people who are low-income."
Roughly 35 percent of Black Americans rely on Medicaid coverage, which means that in most states, a large chunk of Black Americans are cut out of abortion coverage, which in many cases makes getting care cost prohibitive.
"We know that the restricting Medicaid coverage of abortion forces one in four low income women seeking abortion care to carry that pregnancy to term," explains Morgan Hopkins, President of All* Above All, which helped spearhead the EACH Act legislation.
Abortion care in the United States isn't cheap. Without insurance, an abortion can cost anywhere from around $580 to $800 in the first trimester to 1,500 to $2,000 in the second trimester. And that doesn't include the cost of transportation, hotel fees, or child care.
"[Passing the EACH Act] is about the core of our democracy," says Congresswoman Lee. "Why do you allow people who have money and insurance to access the full range of reproductive health services, and you don't allow Black and brown people to have the same type of health care services?"
Pressley, who co-sponsored the legislation, agrees with Lee that ending Hyde is an urgent priority.
"It's long been time for us to repeal Hyde because it's racist and discriminatory and denies access to... abortion care for our most vulnerable on Medicaid and other government sponsored programs," Pressley told The Root. "And that's Black folks, brown folks, indigenous folks, and disabled people."
For Representative Lee, the fight to ensure Black pregnant people have access to abortion care is personal. "When I was a teenager, I went to Mexico to Juárez, and it was a back alley," said Representative Lee, referencing her abortion prior-to Roe v. Wade. "Fortunately, I survived, but a lot of Black women didn't."
Going backwards isn't an option, says Lee. "I don't want these Black and brown people going through this kind of trauma," she says.
The call to repeal Hyde has only gotten stronger in recent years. When Lee first introduced a motion to repeal the amendment, she says she only received 30 co-sponsors. This time around, there are at least 167 co-sponsors.
For Congresswoman Pressley, there is no better time to keep pushing to pass the EACH Act and repeal the Hyde Amendment. Even if Republicans are highly unlikely to support the bill.
"If the Supreme Court wants to turn a deaf ear to the will of the people and the Republican GOP does not want to be responsive to the will of the people," says Representative Pressley. "We are going to, as Democrats be responsive to the will of the people. And so we'll continue to organize and mobilize and coalition build and legislate as if lives depend on it, because they do."