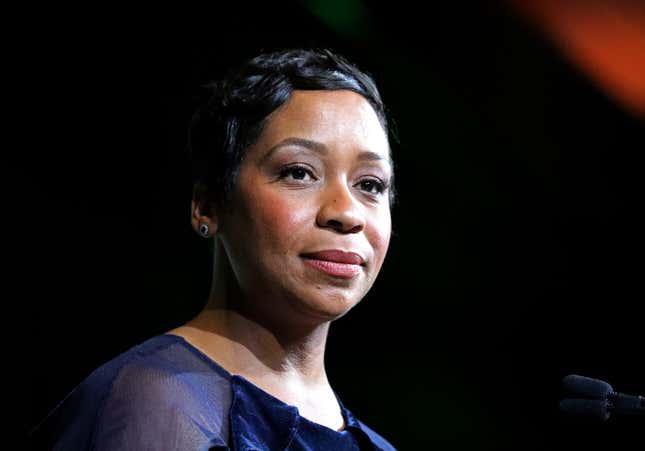 After years of allegations of racism, a notorious Boston police unit has landed itself on the wrong side of the Massachusetts Attorney General's office. Attorney General Andrea Campbell's office announced that they're reviewing a pattern of "racially biased" policing in Boston's controversial Youth Violence Strike Force and Gang Assessment database.
Black Women Had Some Major Firsts In Last Week's Midterm Elections
Theoretically, the database is supposed to be tracking active gang members, but critics argued that it was full of inaccuracies and unfairly targeted Black and Latino youth. In 2018, the American Civil Liberties Union of Massachusetts revealed that of the 5,000 people Boston police included in the database, nearly all of them were young Black and Latino men. For context, roughly 66 percent of the people in the database were Black and only two percent were white.
We still don't know a ton about the review, although the office has been careful not to refer to it as an investigation. "Our Civil Rights Division is reviewing the Youth Violence Strike Force and its Gang Assessment Database based on allegations that, between 2018 and the present, there may have been a pattern or practice of racially biased policing," wrote a spokesperson for the Attorney General's office. "We have received the full cooperation of the Boston Police Department, and our review is ongoing."
In an interesting plot twist, the office only announced the investigation after forged flyers emerged claiming that the Attorney General's office was investigating the police unit. Those were fake, but the review, which has been ongoing since last summer, was very real.
It's worth noting that this is far from the only gang database that has come under scrutiny. Chicago's gang database was widely criticized for similar reasons after it was revealed that the database was riddled with errors and disproportionately included Black and Latino Chicagoans.
There's no telling exactly how the review into the Boston Police Department will turn out. But now that we're aware of it, it'll certainly be worth keeping a close eye on it.