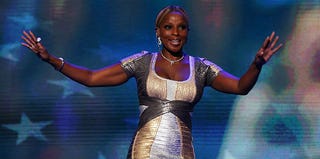 It's been a tough financial road for Mary J. Blige lately, and the hits keep coming as she now faces a tax lien of nearly $1 million, reports the Huffington Post.
The singer, 42, has been hit with a $901,769.65 tax lien in the State of New Jersey, according to documents obtained by TMZ. And to make matters worse, this delinquent tax issue is only one in a handful of monetary woes Blige has been faced with over the last couple of months.

The "No More Drama" songstress was just sued earlier this month for allegedly defaulting on a $500,000 bank loan. According to the lawsuit filed by Bank of America in New York State Supreme Court, Blige took out the loan in 2005 and stopped making re-payments in June 2012.

Plus in Nov. 2012, Blige and her husband Martin Isaacs were hit with another lawsuit after they failed to pay off a $2.2 million bank loan. According to court documents filed in New York State Supreme Court in Manhattan, Signature Bank is seeking to recoup the original loan plus $58,000 in interest.
Read more at the Huffington Post.