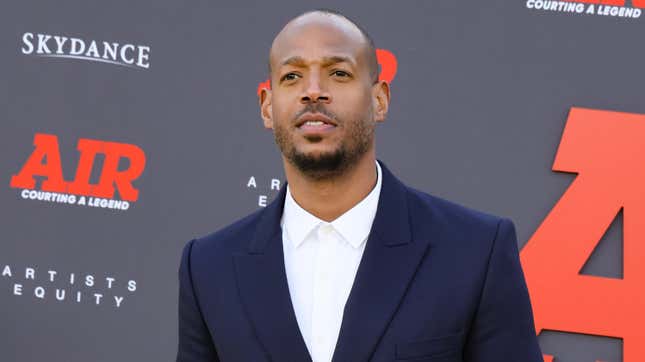 Howell Wayans, the patriarch of the legendary Wayans family, has passed away at 86. The news was confirmed over the weekend by his son, comedian Marlon Wayans.
Bel-Air Star Jabari Banks Talks Marlon Wayans Playing His Estranged Dad
In a post to Instagram on Saturday, Marlon reflected on his father's impact on his life and thanked him for being "an example of a man" to him and his other siblings.
"When I was a child I asked my Dad what did you want to be when grew up? He simply said 'I wanted to be a man,'" Marlon began. "I said 'not a lawyer? A doctor? An actor?' He said 'just a man.' I said 'but every boy becomes a man.' Dad said 'Not true.' I asked, 'then what's a man?' My Dad said 'A man takes care of himself and his responsibilities. His family is always FIRST.' From that day on I wanted to be a MAN."




He continued:
"Thank you Pop for being an example of a Man to all your boys. I pray all young Black boys can grow up to be a Man like you. Baby boy loves you. And if ever I need you I know exactly where to find you… in my Bible that now sits by bed. Rest well. Kiss Ma for me. Tell her her babies miss her. I got two angels. I feel y'all lifting me already. If there's a heaven I know you sitting in VIP sippin' the best wine Jesus can make…"
Following Marlon's post, several celebrity friends gave words of support in the comments section.
"Sending [my] Love and condolences to all the family..fly high king," Naomi Campbell wrote.
Fellow comedian Affion Crockett wrote, "Love you brother."
"Sending you love. And keeping you in my prayers," said Emmy-winning actor and director Lena Waithe.
Marlon's fellow siblings Craig and Diedra also posted online tributes to their father in the wake of his passing.
"My Heart is Heavy. I thank God for allowing Us to have so many years of love, memories and great parents," Diedra captioned in her post. "The kind that never gave up on their kids. I know I was a handful but through y'all tough love, discipline and devotion, I became a phenomenal woman just like you Momta. A Spiritual woman like you Dad. Thank you for teaching me about the Lord. I know he will give us strength and courage during our time of mourning."
"Since Momta left Dad, you kept saying you want to be with your girl. And so it ends with a beautiful love story. Back together again. I can only imagine the joy y'all experienced seeing and holding each other again. Miss y'all already. Until we meet again our love is for Infinity. Say hello to Momta," she concluded.
Per ET, Elvira Alethia, the matriarch of the Wayans family, passed away in 2020 at 81. The Root sends our deepest condolences to the entire Wayans family and all those who knew and loved Howell Wayans.