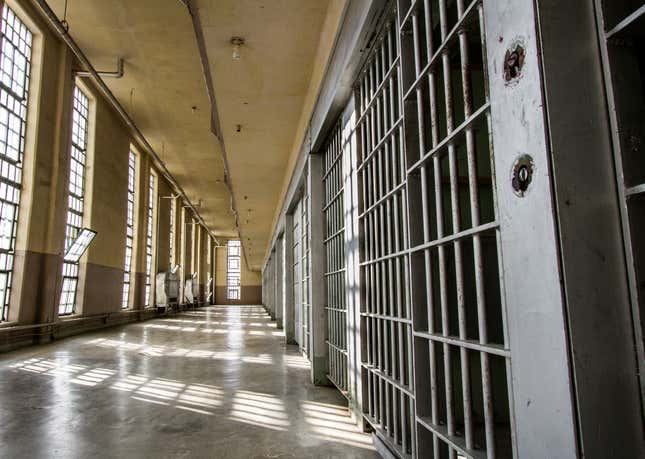 The family of Larry Eugene Price Jr., an Arkansas man who died of malnutrition while held in jail, has filed a lawsuit alleging the jail staff intentionally starved him to death, per an AP News report. Price's death was the end of a year-long wait for a trial following a mental crisis in 2020.

Afraid Of Losing Political Power, White People Weaponize "Identity Politics"
Price was arrested on a terroristic threat charge after making a trigger-pulling motion with his fingers at a few officers, per the Seattle Times Record. The suit says Price was homeless at the time of his arrest and had a history of mental illness and a developmental disability. When taken into custody at Sebastian County Jail, he was put into solitary confinement. Based on the events prior to his death, the family argues the tragedy could have been prevented.
On one hand, the jail staff discontinued his mental health medications after he refused to take them. He was reported to have gone from 185 pounds to just 90 pounds by the time of his death. The lawsuit also stated his skin wilted from prolonged exposure to water on the concrete floor in his cell.
No one should have to endure inhumane conditions like this.
Read more about it from AP News:
"Larry Price suffered in the tortured throes of his untreated mental disorder for months on end as jail healthcare and security staff watched him waste away—apathetic to his life-threatening medical and mental health needs and to the cruelty of his confinement," the lawsuit said.

The lawsuit was filed against Sebastian County and Turn Key Health Clinics LLC, the jail's medical provider, along with two employees of Turn Key. It also lists several unnamed employees of the county jail and Turn Key as defendants.

Sebastian County Judge Steve Hotz said the sheriff is conducting an internal review of Price's case. A message left at Oklahoma-based Turn Key Health Clinics was not immediately returned Friday afternoon.

"The county places a high priority on the safety of every person in our jail. We have medical personnel available to treat inmates in need of care," Hotz said in an email. "The sheriff is conducting an internal review of this situation and hope to know more in the future."
Prison inmates all around the south have been protesting against the very same conditions cited in Price's case. Sebastian County was also found to have overcrowding and staffing issues, per the suit. All of these things lead to the miserable treatment of inmates.
Even while detained or serving a prison sentence, we all have an Eighth Amendment right to be treated as a human being and afforded the minimum standard of living. For some deep-rooted, wicked reason, it has been normalized for inmates to face unnecessary torture along with their government-ordered punishment.