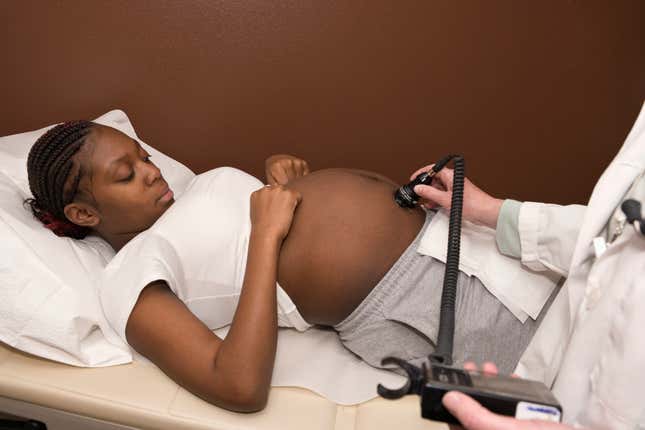 Three women have come forward with serious allegations against the Perryville Prison in Buckeye, Arizona. According to reports from the Arizona Republic, the three women were forcibly induced against their will before their due dates.
Small Town Horror Story: The Vietnam Veteran Who Refused To Leave A Man Behind
It's worth noting that NaphCare, which took over the prison's health care contract in October, denied having a policy of forcing inductions.
However, according to the Arizona Republic, which reviewed the women's medical records, all three women were induced before their due dates.
Two of the women, Stephanie Pearson and Desiree Romero were induced at 39 weeks in 2022. And Jocelyn Heffner, another woman who came forward, was induced at 37 weeks on two separate instances in 2020 and 2022, according to the Arizona Republic.
Inducing labor before 39 weeks without a medical reason can pose serious health risks to the newborn, according to research from the National Institutes of Health.
The three women told the Arizona Republic, that they were induced as a part of the Arizona Department of Corrections policy, not because of any individual health conditions.
"They said they induce everyone because they don't want anyone going into labor here," Stephanie Pearson told the Arizona Republic, referring to a conversation with a prison obstetrician. "They just told me that someone on a different yard a few years ago went into labor in their cell, and had their baby in the cell, and that's why they induce everyone now."
Jocelyn Heffner, told the Arizona Republic, that she was induced twice against her will, and that she pushed back each time.
"I felt like I was viewed as a liability and walking around a prison yard nine months pregnant didn't comfort this state institution," Heffner told the Arizona Republic.
The Arizona Department of Corrections did not respond to requests for comment by the Arizona Republic, and did not respond to The Root's requests for comment by the time of publication.
NaphCare on the other hand has been forceful in denying the existence of this policy. "Any decision to induce is solely the patient's choice," NapCare's spokesperson told the Arizona Republic. 
The prison has far from a stellar record when it comes to caring for pregnant inmates.
In 2019, the ACLU documented "horrific" cases of abuse and neglect of pregnant women at the Perryville prison. According to the report, these women weren't given adequate nutrition, medical supplies, and were shackled while being transported to the hospital.
In one instance, the ACLU reported a case where a mentally ill woman gave birth alone over a toilet in her cell at the prison.
At this point, the allegations made by the women at Perryville are still just allegations, but only time will tell just how far-reaching these claims will become.