Today marks the 20th anniversary of an announcement that rocked the sports community: the announcement that legendary basketball player Earvin "Magic" Johnson was retiring, having contracted HIV. Relatively little was known about the virus at the time — so much so that Johnson had to be reminded that he had HIV, not full-blown AIDS, before making the announcement.
On Nov. 7, 1991, the world stopped for a moment as it learned that the man with the magic touch and infectious smile was now facing what was believed at the time to be a certain death.
The announcement came just after Johnson had married his longtime girlfriend, Earleatha "Cookie" Kelly, in September of that same year. After a routine physical examination, the seemingly invincible point guard tested positive for HIV.
Instead of watching a powerful man known for his physical prowess on the basketball court wither away and die, we have seen Johnson defy the odds, battle his diagnosis and become a symbol for living with HIV. Although he has been able to fight the disease off the court, it was harder for him to fight prejudices associated with it on the court.
In 1992 Johnson attempted a comeback in the NBA. Johnson, who was seen as someone impossible to guard but whom top-tier players wanted to challenge, was met with blatant discrimination. When he moved into the paint for a shot, players would part like the Red Sea, getting out of the way, not because they had been beaten, but because they feared contact with Johnson.
G/O Media may get a commission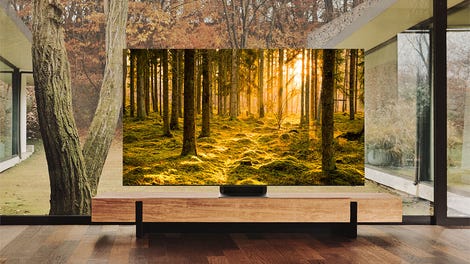 Up to 40% off
Samsung Smart TVs
Many players expressed fear and concern about playing with him on the court, and the comeback was short-lived. Despite the mistreatment by some fellow players, Johnson was named to the NBA All-Star team that year, becoming the game's MVP.
Undeterred, Johnson channeled his energy into creating campaigns to promote HIV awareness and prevention, establishing the Magic Johnson Foundation. He also briefly served on President George H.W. Bush's National AIDS Commission but resigned because of what he perceived to be the commission's lack of commitment to solving the AIDS crisis.
In addition to promoting AIDS awareness and prevention through his foundation, Johnson has become an iconic businessman, opening Starbucks, T.G.I. Fridays and movie theaters in black neighborhoods throughout the country. He and his wife, Cookie, have been married for 20 years and have two children, one of whom is adopted.
Magic Johnson's announcement 20 years ago helped usher in an era of educating people about HIV awareness and prevention. His diagnosis helped challenge stereotypes about who could acquire the disease and how one could get it. Johnson's commitment to healthy living and fighting the disease serves as a shining example that an HIV diagnosis does not have to be a death sentence. Some would say that is a far greater achievement than anything he accomplished on the basketball court. Magic Johnson is clearly winning at the game of life.
Read more at the Los Angeles Times.
In other news: Ex-Caddie Under Fire for 'Racial Slur' Against Tiger.