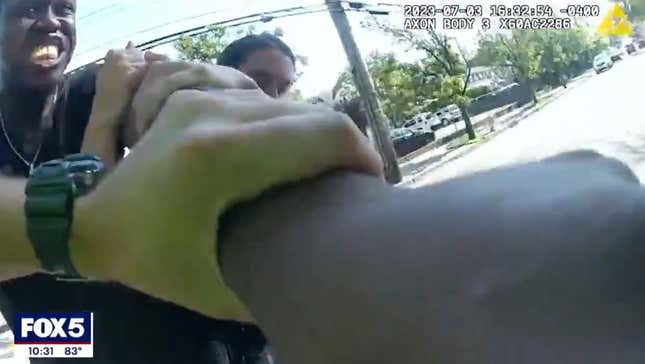 Outrage has spread across New Rochelle, NY, after the fatal shooting of a man accused of eating grapes and a banana he hadn't paid for. According to REVOLT, the family demanded the unedited body cam footage to see the whole account of the incident.
Courtney B. Vance in Heist 88 Is Our Black TV Pick of the Week
Jarrell Garris, 37, was in a local grocery store on July 3 when an employee called the police, accusing him of eating a banana and a few grapes and then leaving the store without paying. The body camera footage shows two officers approaching Garris and asking him if he'd eaten items from the store. He doesn't respond and walks away but runs into another officer who tells him the grocery store is pressing charges. While trying to place him under arrest, Garris appears to resist, leading to a struggle. Authorities claim that Garris reached for one of the officers' guns, which led Detective Steven Conn to fire his weapon seconds later.
Garris suffered a gunshot wound to the neck, causing damage to his cervical spine and spinal cord. He died Monday, July 10, after being removed from life support. The Westchester County medical examiner ruled his death as a homicide, per FOX5 New York.

Only a portion of the body camera footage has been released. Now, the community is questioning why the department is holding the rest.
Read more from The New York Times:
"The city of New Rochelle claimed they released those videos to be transparent, but why wouldn't you release the full video?" said William Wagstaff, a lawyer representing Mr. Garris' family.

Noam Bramson, the mayor of New Rochelle, welcomed the state investigation in a statement on Wednesday and said the city had no objection to the release of full body camera footage if the attorney general, Letitia James, judged that to be appropriate.
According to the report, Garris, who had just moved to Greensboro, North Carolina, returned to New Rochelle to pick up his 11-year-old son for the summer. His father said he was known in the community for over 30 years. Several members of the police department knew Garris because they'd done wellness checks on him in the past regarding his schizophrenia, per the Times.
"I don't want to remember him by how they try to paint a picture of him. He had a heart of gold. He was a respectful person who just had a mental illness," said Tiona Garris, Jarrell's mother.
The two officers involved have been placed on administrative leave upon the investigation, the report says.