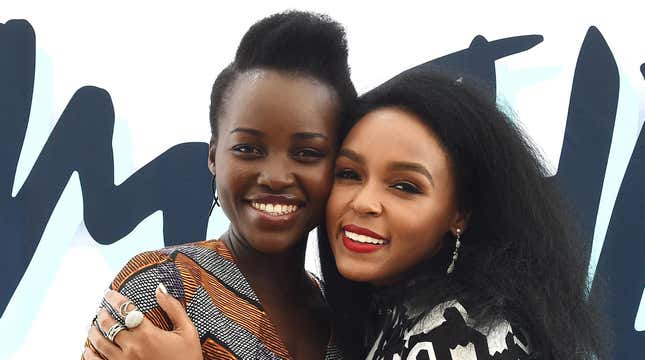 Black Panther star Lupita Nyong'o is opening up about her relationship with singer and self-proclaimed Lipstick Lover, Janelle Monáe.
Why Creators of HBO Max's South Side Chose To Focus On That Part of Chicago
In a new interview with Rolling Stone, she discussed how the two became friends after meeting for the first time at the 2014 Met Gala. Since then, they've maintained a connection, but according to Nyong'o, that's all there is—despite speculation of their rumored romance.
"[Janelle] came up to me and just gave me the realest hug. I think we may have swayed to the music. She was just like, 'I'm so proud of you, and just thank you for being you,'" the Us star explained. "At some point, [Janelle] asked me for my phone, put her number in and said, 'Let's stay in touch.' She was like, 'I really mean it. If you need anything, I'm here for you.'"
She continued: "She has [a] magnetism that they were obviously picking up on. She is that enigmatic. People are curious about enigmatic people. I was not surprised. And I don't mind being associated with her in any capacity.
"She's extremely gifted. It's built into her spirit. Her openness creates intimacy onscreen. It's really cool to see her move from one thing to another and do it with such mastery."
Both Nyong'o and Monáe have opted to stay mum about their private life over the years. However, back in January, the 12 Years A Slave star hard launched her new relationship with musician and entrepreneur Selema Masekela. As for the Dirty Computer singer and actress, she identifies as pansexual and has been linked to Creed and Marvel star Tessa Thompson in the past.