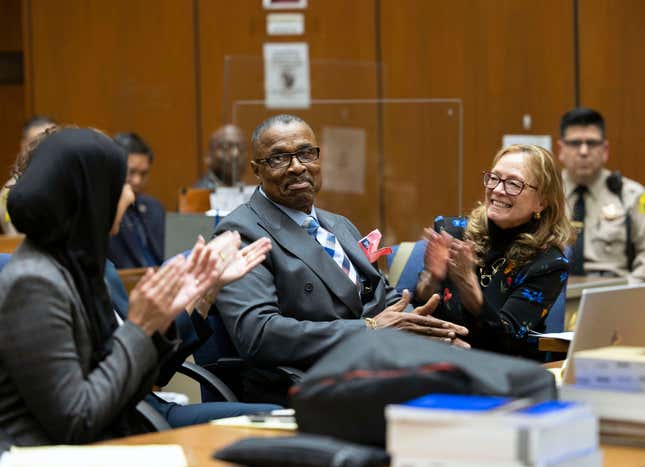 A Los Angeles County Superior Court judge overturned the conviction of a man who was wrongfully convicted in a 1983 robbery-homicide and sexual assault, per CNN. Along with his record being wiped clean, he received an address from the district attorney's office that's rarely seen in exoneration cases: an apology for ruining his life.

Small Town Horror Story: The Mississippi Burning of Three Anti-Segregationists
Maurice Hastings, now 69, was found guilty in the abduction, rape and murder of a woman in Inglewood, Ca., over three decades ago. He was sentenced to life in prison—and nearly the death penalty—despite no physical evidence connecting him to the crime. According to the Los Angeles Innocence Project, Hastings repeatedly asked the court to review his DNA to confirm that he wasn't connected to the victim.
"I have been incarcerated for over fifteen years for a murder that I did not commit. The most compelling of the evidence that has not as of yet been examined is the DNA evidence which will conclusively show that I was not the person involved with the deceased at the time of the crime," Hastings wrote in a letter to the DA's office in 2000.
When his DNA was finally compared to the semen sample collected from the victim in October 2022, Hastings was proven to be innocent and released from prison. However, it wasn't until now that he was formally declared a free man. While most cities or prosecutors decline to admit their wrongdoing in a case, the Los Angeles District Attorney's Office offered an apology to Hastings as his innocence was declared by the judge.
From CNN:
During the hearing, Deputy District Attorney Martha Carrillo issued Hastings a "long overdue apology" on behalf of the Los Angeles District Attorney's Office.

"I am sorry, very sorry, for the injustice, the great injustice, that my office and the criminal justice system perpetrated upon you. There's a lot to be learned from that," she said. "We are humbled by that lesson and we'll take it to heart. I know that it's not enough to say 'I'm sorry,' for 38 years in prison, and I realize that, and I'm humbled."

Carrillo also apologized for not heeding Hastings' previous requests for DNA testing on the evidence.
What is a man to do after being exiled from society for 38 years? Hastings said in a news conference he just wants to enjoy his new freedom. He's also participating in an entrepreneurship program and volunteering to help the homeless.
"It means a lot. I'm grateful for the judge's ruling, and the apologies. Everything has been wonderful today. I'm ready to move forward with my life. I'm a happy man right now," he said.
According to the National Registry of Exonerations, Hastings was one of 284 exonerees in 2022.